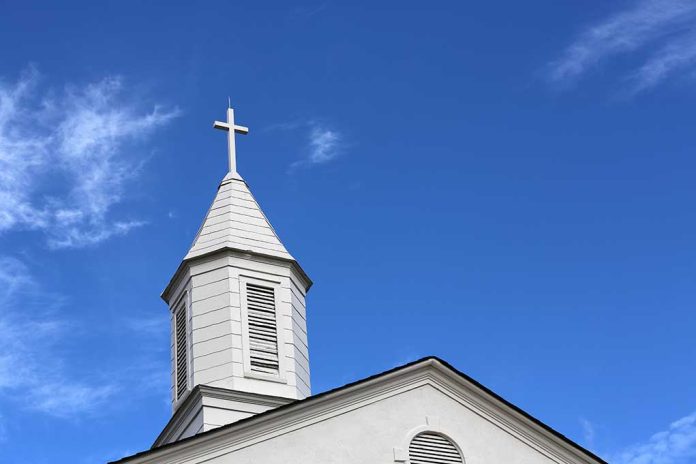 Historic Building DESECRATED Following Roe Verdict — Who's To Blame?
(ReliableNews.org) – West Virginia's Saint Colman Catholic Church stood in Shady Spring, WV for more than 100 years. According to the National Register of Historic Places, the original structure dated back to 1877-1888. Unfortunately, it's nothing more than a pile of ashes now.
On Sunday, June 26, the Beaver Volunteer Fire Department was alerted about a structure fire at the church. When firefighters arrived on the scene the church was already completely destroyed. The department is now investigating the fire as arson.
Remains of Saint Colman Catholic Church burned down a few hours ago today in Irish Mountain Road Shady Spring West Verginia U.S.A. pic.twitter.com/rZ1Gz9LFnh

— Kristyano Sunny (@KristyanoSunny) June 27, 2022
Religious institutions have seen an uptick in attacks over the last couple of months in relation to abortion rights. Dozens of churches have been vandalized since May. Although neither the police nor the fire department has indicated the blaze had anything to do with the current political climate, it did take place two days after the Supreme Court reversed Roe v. Wade.
Kelli Harrison, whose family were original members of the church, told WVVA "all of that history is gone," and it has made her so sad. She explained that people held weddings and funerals at the little structure on top of Sullivan's Knob for almost 150 years.
West Virginia State Police Trooper D. Daniels is investigating the incident. He told the local news station he has several leads but isn't releasing any details. If anyone has any information, please call him at (304) 256-6700 or call the WV State Fire Marshal's Arson Hotline at (800) 233-3473.
Copyright 2022, ReliableNews.org