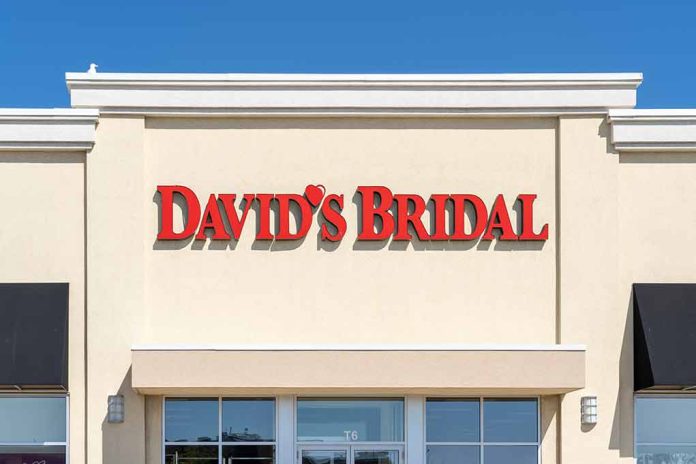 (ReliableNews.org) – The first David's Bridal store opened in Fort Lauderdale, Florida, in 1950. Since then, it has grown into one of the largest bridal companies in the country and even has stores in the United Kingdom and Canada. That could all change soon.
On April 17, David's Bridal filed for Chapter 11 bankruptcy for the second time in almost five years. The New York Times reported the retailer will continue to look for someone to purchase some or all of its assets. However, if it cannot find anyone to purchase the company, it will liquidate its assets with the help of Gordon Brothers Retail Partners LLC. That would mean all of its 10,000 employees would need to find new employment. The news came just days after the company announced around 9,000 workers were being let go.
Two days after it announced it was laying off more than 9,000 workers, David's Bridal has filed for Chapter 11 bankruptcy and is looking for a buyer. https://t.co/sO0jG6J3xz

— NBC News (@NBCNews) April 17, 2023
While the company searches for that special someone to say "I do" and purchase its assets, it will keep its nearly 300 stores open and its website up. People will still be able to purchase items, make returns, use gift cards, and make exchanges.
In its filing, the retailer wrote that it wanted authorization to honor its obligations, like paying employee wages, vendors, and some of its programs for its customers. CEO James Marcum said the last few years have had a striking impact on the industry and the way people dress for weddings, and that has hurt the business.
The Wall Street Journal reported the executive said the company provides one out of every four wedding dresses worn in the US. However, in addition to the shift in the last few years, Marcum also believes the last bankruptcy hurt consumer confidence.
Marcum said the company thinks it still has an important role to play to ensure all brides are able to have the dress of their dreams "no matter her budget."
Copyright 2023, ReliableNews.org