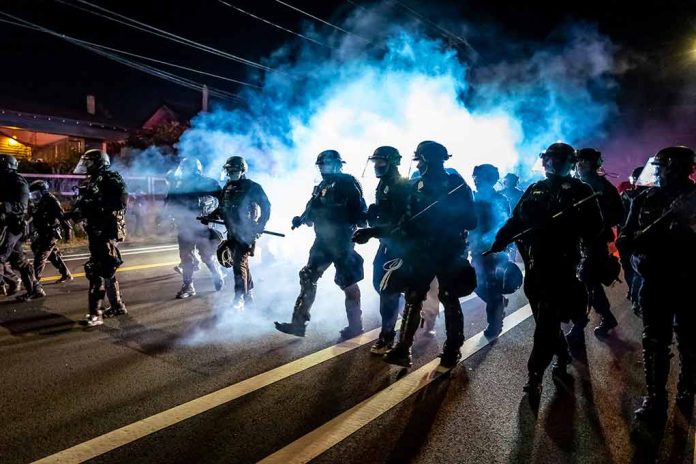 (ReliableNews.org) – Violent protests erupted in the western suburbs of Paris and spread throughout the metropolitan area overnight after a police officer shot and killed an unarmed teen during a routine traffic stop on June 27. Law enforcement officials initially claimed the officer shot the 17-year-old because he reportedly drove his car toward him in a menacing manner. However, footage of the incident, authenticated by French media outlets, contradicted the claim. The riots are ongoing, resulting in thousands of arrests so far.
On June 29, French Interior Minister Gérald Darmanin deployed roughly 40,000 police officers, about 5,000 inside the Paris city limits. The following day he reported that local and national law enforcement officials had arrested 667 individuals amid the protests.
However, those numbers exploded over the weekend. On Monday, July 3, Euronews reported that law enforcement officials arrested more than 700 people Saturday night and an additional 150 overnight on Sunday.
Then, on Tuesday, Darmanin sent a statement to media outlets confirming that authorities had arrested 3,354 people since the protests erupted overnight the previous Tuesday. He also confirmed that the average arrestee was 17, the same age as the shooting victim.
In a rare move, French President Emmanual Macron spoke out against the police officer involved in the shooting. Characterizing the shooting as "unforgivable," he told reporters in Marseille that "nothing justifies the death of a young person."
However, French media outlets like Le Monde reported that Macron was attempting to walk a tightrope between public sentiment and police unions and heaped praise on local and federal law enforcement officials.
Meanwhile, Elysée Palace, the French equivalent of the White House, stated that Macron is at the helm of the nation's federal response to the protests. For instance, he canceled a state trip to Germany over the weekend. On Saturday, he directed Economy and Finance Minister Bruno Le Maire to meet with local business owners. The following day, he asked Prime Minister Élisabeth Borne to visit L'Haÿ-les-Roses, a northwestern suburb of Paris.
It remains unclear if the protests are winding down, and law enforcement officials remain on high alert as France heads into another weekend.
Copyright 2023, ReliableNews.org