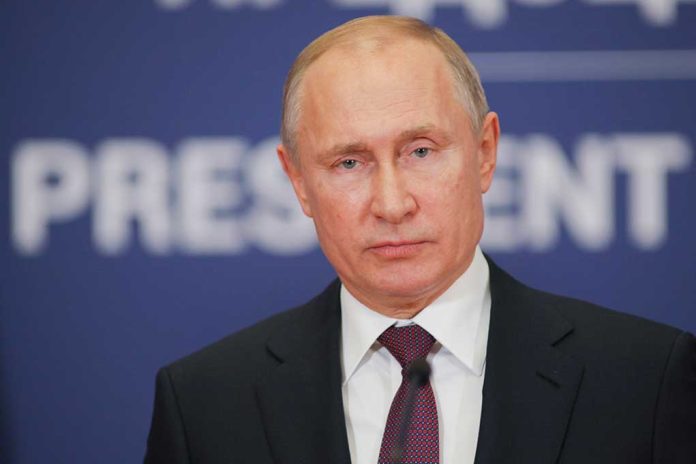 Vladimir Putin REPLACEMENT Report – Intel Made Public
(ReliableNews.org) – Rumors have circulated about Russian President Vladimir Putin's health recently. The once fit leader's bloated appearance combined with whispers about cancer have left people speculating as to whether something is really wrong with him. A former head of the UK's Secret Intelligence Service, MI6, is now predicting Putin's reign is coming to an end.
During the May 18 episode of the podcast "One Decision," Sir Richard Dearlove said he thinks Putin will "be gone by 2023." He doesn't think the Russian president is going to leave willingly, but instead will end up in the "sanatorium," from which he will not emerge as "the leader" of the country. The former MI6 head thinks that would be a way to remove Putin from power without staging a coup.
Dearlove went on to say he thinks Nikolai Patrushev, the secretary of the Security Council, would be Putin's likely successor. However, he noted, there isn't a plan for the succession in place if something has to be done by the president.
What happens if #Putin loses power? The former head of MI6 shares his thoughts on what happens to #Russia and Europe post-Putin. Hear it all exclusively on One Decision. #UkraineRussianWar https://t.co/lK8uvNlWdq pic.twitter.com/jNcZcxDOJA

— One Decision Podcast (@onedecisionpod) May 22, 2022
According to Telegram channel General SVR (reported by the Daily Mail), Putin allegedly underwent a procedure on May 16 for cancer. The Kremlin hasn't commented on the reports specifically, but has previously denied rumors about the Russian leader suffering health problems.
Copyright 2022, ReliableNews.org