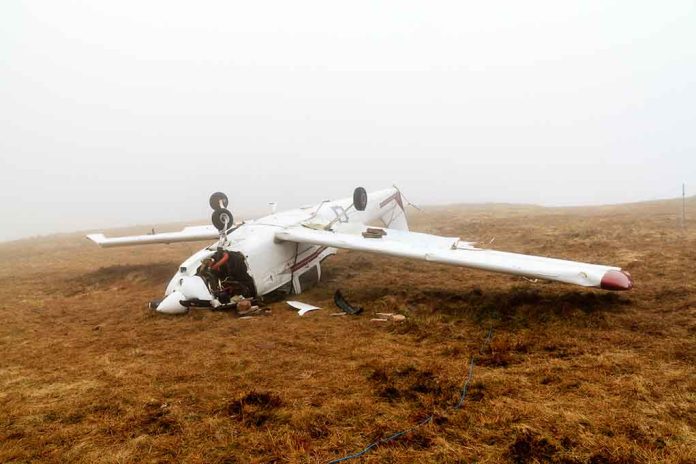 (ReliableNews.org) – On June 4, the Federal Aviation Administration (FAA) called GOP mega-donor John Rumpel and asked him if he knew of a way to get ahold of his plane's pilot because he wasn't responding to communication attempts. His daughter, granddaughter, and her nanny were on the plane traveling from Tennessee back to New York. A short time later, Rumpel's family was dead, and now an investigator has spoken out.
Rumpel's Cessna Citation crashed near the Blue Ridge Parkway in the George Washington National Forest. His daughter, 49-year-old Adina Azarian, 2-year-old Aria Azarian, the nanny, and the pilot perished in the crash. Before the plane went down, it set off a terrifying event in Washington, DC. As it barreled toward the capital, authorities repeatedly tried to contact the pilot to no avail. F-16 fighter jets responded after the aircraft entered restricted airspace, causing a sonic boom in the region.
When the fighter jets intercepted the plane, they reportedly saw the pilot slumped over in the seat. According to the Pentagon, the military didn't shoot the aircraft down; they believe it might have crashed after running out of fuel.
The day after the crash, Adam Gerhardt, an investigator with the National Transportation Safety Board, spoke to reporters about the accident, saying officials were trying to figure out why the pilot was unresponsive and why the flight went to New York, then doubled back toward the capital.
Rumpel told The Washington Post the crash killed his whole family. "That's the end of my family," he said.
Jeff Guzzetti, a former investigator for the NTSB and FAA, said the flight data implies the pilot wasn't in control of the aircraft long before it even made it to New York. Other experts have suggested that hypoxia, or low oxygen levels in the cabin, might have been the reason the pilot was incapacitated.
The investigation is ongoing.
Copyright 2023, ReliableNews.org