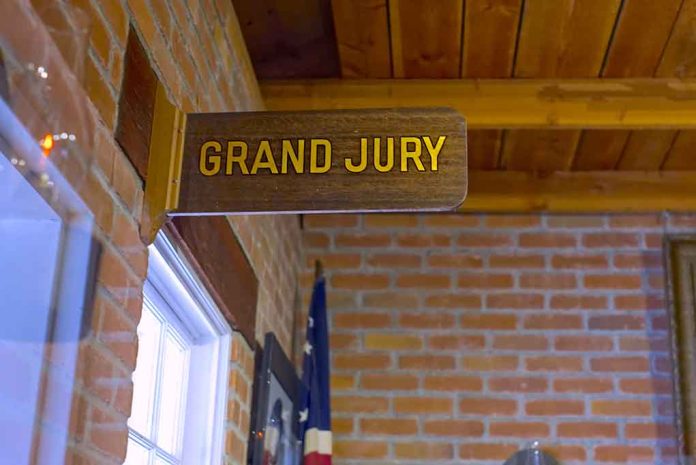 (ReliableNews.org) – James O'Keefe has largely been off the radar since being forced out of his business in February. He founded Project Veritas, a company that posts hidden-camera videos online targeting various Democratic lawmakers and other organizations. O'Keefe recently indicated he might know something about the Manhattan grand jury investigation into former President Donald Trump.
On March 23, a Twitter user posted allegations about the secret grand jury hearings, claiming that Manhattan District Attorney Alvin Bragg "likely hid exculpatory evidence" from the jury. The user didn't explain what he was referring to or where he heard the rumor. He asked if O'Keefe has "someone on the inside."
O'Keefe responded to the user, insinuating he did have someone (or multiple people) on the inside of the grand jury.
The real question is how many do we have on the inside? Stay tuned

[email protected]
Subscribe —> https://t.co/aXpfOC6v5F https://t.co/eYWUjszWdM

— James O'Keefe (@JamesOKeefeIII) March 23, 2023
Grand jury proceedings are highly secretive. A panel of 16 to 23 jurors selected by the court listens to the evidence presented by prosecutors to determine whether or not to recommend an indictment against a suspect. Unlike a court case, grand jury hearings are completely one-sided, and the defense isn't allowed to present any evidence.
Not a lot is known about the grand jury investigation into the former president. Reports have indicated it's most likely about an alleged hush money payment from Trump to Stormy Daniels. There's speculation that Bragg wants to charge the 45th POTUS with a felony for allegedly falsifying business records. Normally, the charge is a misdemeanor, but it could be elevated to a felony if prosecutors show there was an intent to defraud. But at this point, nothing has been confirmed by officials.
Trump has indicated he believes he will be arrested at some point. He has vehemently denied all wrongdoing and has said the grand jury is a continuation of a witch hunt against him. O'Keefe has also not released any information about his alleged insiders.
Copyright 2023, ReliableNews.org