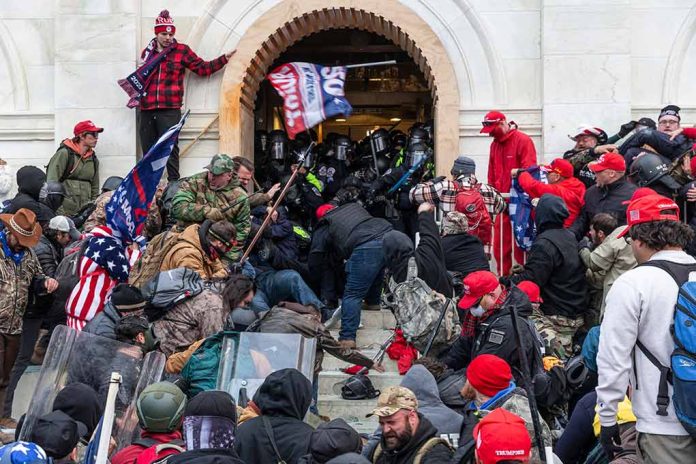 (ReliableNews.org) – The federal government has charged more than 1,000 people with crimes related to their conduct while at the Capitol Building on January 6, 2021. Those range from misdemeanors to serious felonies. A judge has now sentenced yet another rioter.
On Monday, July 24, US District Judge Rudolph Contreras sentenced 44-year-old Peter Francis Stager to 52 months (4.3 years) in prison. The convict pleaded guilty on February 16 to resisting, impeding, and assaulting officers with a dangerous or deadly weapon.
According to a press release by the Department of Justice, Stager was part of the armed mob attacking officers stationed at the Lower West Terrace of the US Capitol on January 6. He was carrying a flagpole affixed with an American flag. The other rioters attacked a police officer and dragged him headfirst and facedown into the crowd. At that point, Stager beat the officer with the flagpole, slamming it into the cop's body at least three times. The officer, identified only as B.M., told the court that he remembers being hit in his helmet and believes his attackers wanted to drag him deep into the crowd.
When Stager finished attacking B.M., he walked toward another officer lying on the ground and screamed, "[expletive] you! [Expletive] traitor!"
After the incident, someone filmed Stager pointing at the US Capitol and saying all of the lawmakers in the building were disgraces and "treasonous traitors." He said, "Death is the only remedy for what's in that building." He also said the Capitol Police officers deserved to die.
According to reports, Stager later tried to explain away his actions by saying he thought the cop he attacked was a member of Antifa. However, the law enforcement officer was wearing a clearly marked uniform.
In addition to the prison time, Stager will also have to pay $2,000 in restitution and serve 36 months of supervised release when he gets out.
Copyright 2023, ReliableNews.org