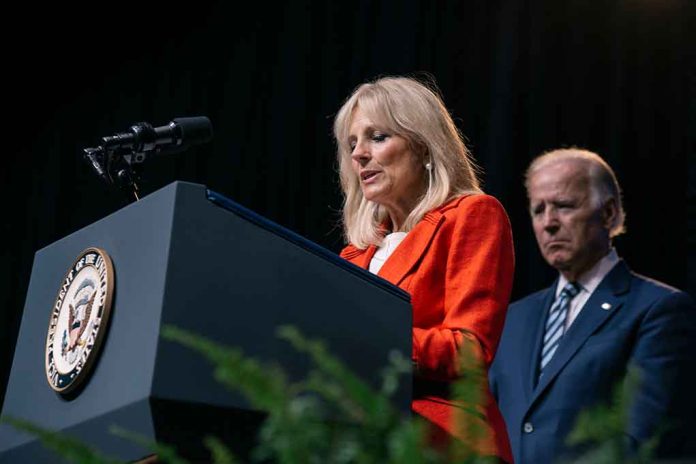 Biden's Trip To Scene Of "Racially Motivated" Crime Full Of Anti-GOP Rhetoric
(ReliableNews.org) – On May 14, gunshots shattered a sunny day in Buffalo, New York. An alleged white supremacist shooter murdered 10 people and wounded 3 others in a predominately black neighborhood. President Joe Biden and First Lady Jill Biden traveled to the city a few days later.
The president and first lady met with the families of the victims when they arrived in the city. Ebony Thomas, the niece of victim Deacon Heyward Patterson, told Buffalo News that Biden "showed empathy" and promised change. She went on to say she personally believes there should be stricter laws on firearms to make sure the mentally ill can't access them; it should be noted, there's no evidence the man detained by police has mental health issues. After the meeting, Biden gave a speech calling on lawmakers to pass stricter gun control bills and to condemn racism.
"White supremacy is a poison," Biden said during his remarks at the Delavan-Grider Community Center.
In remarks following the deadly Buffalo, NY mass shooting, President Biden says white supremacy "is a poison."

"We need to say as clearly as we can that the ideology of white supremacy has no place in America … Silence is complicity. We cannot remain silent." pic.twitter.com/BWkrAckocV

— CBS News (@CBSNews) May 17, 2022
Police allege 18-year-old Payton Gendron drove more than 200 miles from his house in Conklin, NY to carry out the murderers. He live-streamed the killings and reportedly published a racist manifesto. Democrats are now using the shooting to attack conservative politicians and media figures.
There were multiple shootings over the weekend, but the Buffalo disaster was all the president paid attention to publicly. Some are questioning why only that one. Was the president using the shooting as a way to promote the Left's ideals?
Copyright 2022, ReliableNews.org