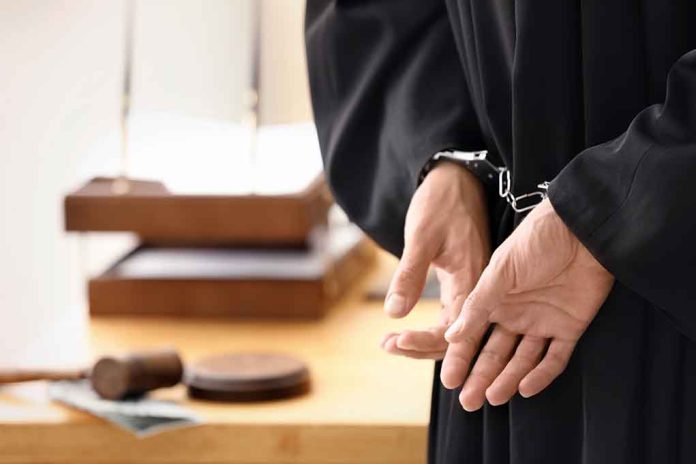 (ReliableNews.org) – Judges are at the very top of the criminal justice system in the United States. Their character is supposed to be unimpeachable. If Americans can't trust them, the entire system collapses. A former Arkansas judge didn't get the memo.
On January 5, the Department of Justice announced authorities arrested 63-year-old Thomas David Carruth, a former judge in the Monroe County district court. According to the statement, the suspect allegedly solicited sex from a defendant's girlfriend. In exchange, he promised the woman he would expedite her boyfriend's trial date.
Former Judge Arrested for Bribery and Obstruction of Justice https://t.co/65QQJDDr12

— Criminal Division (@DOJCrimDiv) January 5, 2023
According to the Arkansas Democrat-Gazette, the FBI raided the former judge's home in June. The Arkansas Judicial Discipline and Disability Commission reported it had received complaints about "the same subject matter" when the feds began looking into Carruth's conduct. He had resigned from his position on the court in August so he could run for another public office.
Carruth later claimed he was being blackmailed by a woman whose boyfriend was a defendant in his court. He claimed the woman had said she would "do anything" to get her boyfriend out of jail and that he was the one who contacted authorities.
The Justice Department claimed the FBI questioned Carruth about the complaint from the woman but said he lied about it. The former judge is being charged with three counts of using a facility of interstate commerce for unlawful activity, one count of making false statements, three counts of honest services wire fraud, and one count each of obstruction of justice and bribery. He's facing up to 20 years in prison on the top counts.
The judge has denied any wrongdoing. In a previous interview with KARK, Carruth claimed he handled everything the way he was supposed to, saying he "contacted authorities" when the woman tried "getting [him] to do something." Clearly, the FBI and DOJ were not convinced.
Copyright 2023, ReliableNews.org