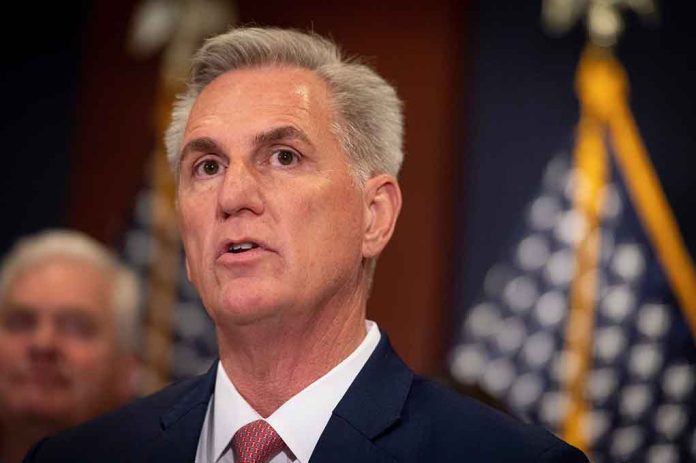 (ReliableNews.org) – On May 15, Treasury Secretary Janet Yellen reaffirmed her position that the United States could likely reach its debt ceiling by June 1. In a letter from May 1 to House Speaker Kevin McCarthy (R-CA), Yellen warned that "waiting until the last minute" to address the issue would severely harm the United States and American citizens.
On May 17, the House speaker appeared for an interview on CNBC's "Squawk Box." He predicted there would not be a default on the nation's debt and was optimistic because there was a new structure in place that could help negotiations. His sentiment about the debt ceiling echoed that of President Joe Biden, who recently said, "America is not a deadbeat nation. We pay our bills." Senate Minority Leader Mitch McConnell (R-KY), who has also been involved in debt ceiling talks with US leaders, said the US would not default. However, the current limit remains with no increase — yet.
McCarthy insisted he approached Biden months ago about raising the debt ceiling in plenty of time to reach a deal. He recently indicated on Twitter that it was the president who pushed the issue to the last minute.
After months of delay and wasted time from President Biden, negotiations are finally happening because Republicans are united behind a responsible debt limit increase. Now, he has 15 days to avoid being the first president to default on the national debt. https://t.co/JpIntOhB9k

— Kevin McCarthy (@SpeakerMcCarthy) May 17, 2023
The commander-in-chief admitted the House speaker came to him about paying the nation's current accumulated debt, but refused to do so without a budget negotiation. Biden said he would put his budget plan down and speak to McCarthy when he did the same. The president invited the legislator to the White House when he finally agreed to talk solely about the debt ceiling.
Although Republicans and Democrats involved in discussions with the president have strong positions with little middle ground, CNBC reported that McCarthy and House Minority Leader Hakeem Jeffries both said negotiations were progressing — albeit slowly. Jeffries also appeared on "Squawk Box," where he said he was "optimistic" the two sides would soon find "common ground."
Copyright 2023, ReliableNews.org