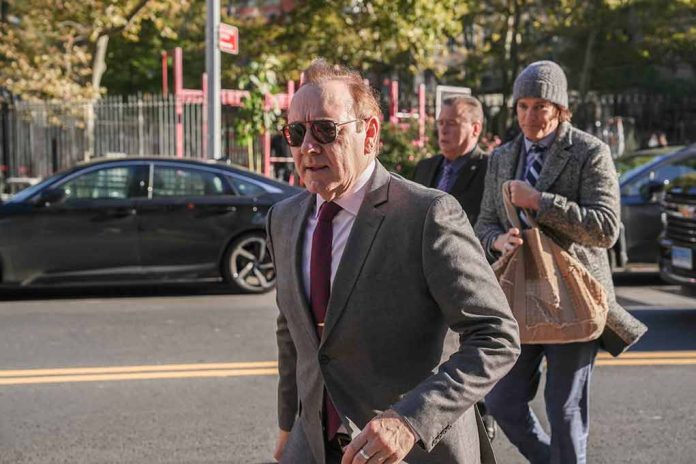 (ReliableNews.org) – In the 1990s, Kevin Spacey made a name for himself in the acting world. The Oscar-winning actor began his career on stage in the '80s before moving on to film and TV. Spacey's acting credits include "Pay It Forward," "American Beauty," "House of Cards," "The Usual Suspects," and "Seven." According to IMDB, the performer also spent some time at the Old Vic Theatre in London between 2004 and 2015, serving as the venue's artistic director.
But it hasn't been all sunshine and roses for the actor. In June 2022, Spacey appeared in court to face 12 sexual assault charges against four different men from his time at the London theatre. One year later, the actor's trial began.
Testimony
On July 5, the Daily Mail reported that a couple of Spacey's alleged victims took the stand to tell their stories. The overall theme presented to the jury has reportedly been that the actor is a "sexual bully" who thrives on dominating his targets. One of the men described his encounter with the actor, saying the pair shared an awkward hug before Spacey's hands started to wander. The victim said he initially froze but then blocked the gesture and pushed the actor a short distance away up against a wall in order to leave. The alleged victim said he then called his dad, who confirmed that his son was upset about the incident, to pick him up. The pair had been out drinking that day with a group, but the victim said he didn't give Spacey any indication he was interested in a relationship.
Spacey's attorney confronted the man for seeking a settlement from the actor in the fall of 2022, as the alleged victim denied seeking civil action. The man explained he wasn't seeking money from Spacey but wanted the actor to realize what he had done was wrong.
Another apparent victim described Spacey as "arrogant" and "dismissive," stating the actor made suggestive and aggressive comments toward him and forcefully grabbed his privates. He claimed the multiple assaults happened at a dress rehearsal for a charity event in 2005. The man said Spacey was a pervert who had been drinking and doing drugs.
Spacey's Stance and Consequences
The American actor has denied all the allegations against him, pleading not guilty in court in January. Once allegations started to surface in the US and the UK, Spacey lost his roles in "House of Cards" and "All The Money In The World." He's spent the last couple of years in and out of court fighting sexual assault allegations from various men.
NPR reported that if Spacey is found guilty in London, he will probably spend a good deal of time behind bars.
Copyright 2023, ReliableNews.org