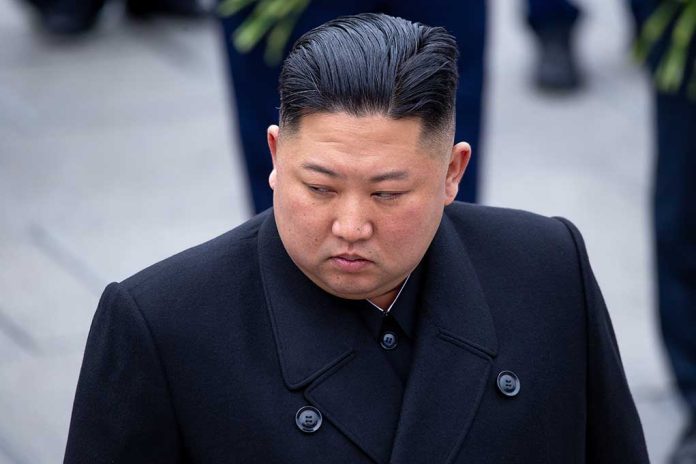 (ReliableNews.org) – North Korea is a largely isolated nation because of severe sanctions. In recent years, leader Kim Jong-un has become increasingly more belligerent and threatening. He was spotted attending a live fire military drill with an unexpected guest.
According to the Daily Mail, North Korean state media released photos of the supreme leader monitoring a short-range ballistic missing launch off the country's west coast on March 9. A group of military leaders and a child accompanied Kim in a bunker. The little girl was reportedly Kim's daughter. Her name is believed to be Kim Ju Ae, and experts think she's about 10 years old.
Kim Jong Un and his daughter observed the launch of six tactical nuclear missiles on Thursday, according to state media.

Expect Dave Schmerler geolocated the event to Lake Taesong near one of Kim Jong Un's mansion compounds and the Pyongyang Golf Club.https://t.co/qECbBCrG42

— NK NEWS (@nknewsorg) March 11, 2023
That wasn't the first time the dictator brought his daughter to watch a missile launch. In November 2022, she was by his side when the military launched an intercontinental ballistic missile. The Hwasong-17 missile allegedly traveled 621 miles for more than an hour.
The latest launch comes as the North Korean dictator is said to be preparing for war. The Mail reported Kim has ordered the military to begin intensifying drills that would respond to a "real war." The live fire demonstrations were supposed to be meant to show the world what the country is capable of doing.
South Korean President Yoon Suk Yeol said he intends to increase the drills his country carries out with the United States. Additionally, he said he "will build an overwhelming response capability and retaliation posture."
There is speculation that Kim's daughter attends these tests with him because she could one day lead the country. The North Korean government is so secretive that it has not been confirmed. Reporters still don't know very much about the dictator or his family.
Whatever reason he had for taking his small child to witness the launches, it's his rhetoric that continues to be worrisome.
Copyright 2023, ReliableNews.org