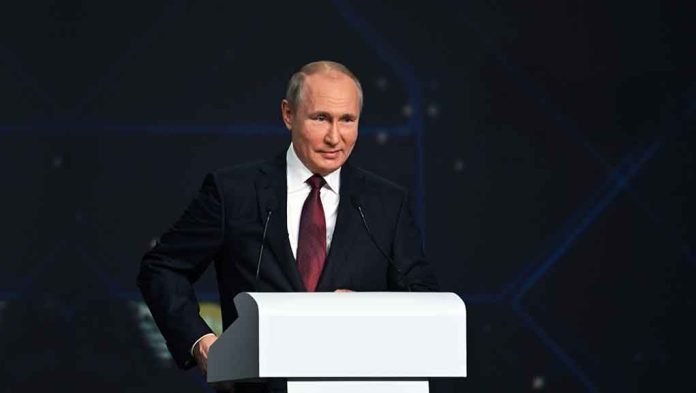 Putin Orders CUTOFF – This Might Be Permanent
(ReliableNews.org) – Russia has long been the largest provider of oil and natural gas to the European Union. Although the bloc of nations reduced its reliance on the adversarial country, it isn't totally independent, making Russia's latest move worrisome.
The Nord Stream is a pipeline that runs under the Baltic Sea and transports 55 billion cubic meters (bcm) of gas from Russia to Germany every year. On July 11, the gas that runs through the line dropped to zero after it was shut down for maintenance work that's expected to run through July 21.
Europe is concerned Russian President Vladimir Putin's regime is going to suspend gas deliveries beyond the current timeline. That would reportedly harm the region's ability to prepare for the winter and make the energy crisis even worse.
CHART OF THE DAY: And Germany counts the days.

Nord Stream 1 pipeline has stopped shipping Russian gas into Germany (just a residual amount still flowing now). It's annual maintenance, scheduled from July 11 to July 21.

Berlin fears the pipeline may never return into service. pic.twitter.com/HCdagmIbGs

— Javier Blas (@JavierBlas) July 11, 2022
According to reports, experts predict the risk of interruption is high. The flow has already been reduced by 60%. Gazprom, Russia's energy giant, claims Germany's Siemens Energy has delayed the return of equipment that has been serviced in Canada. The Canadians, however, recently agreed to send a repaired turbine back to Germany for use in the pipeline.
CTV News reported that Ukrainian President Volodymyr Zelenskyy slammed Canada for the turbine decision. He claimed it showed a lack of courage. Canadian Natural Resources Minister Jonathan Wilkinson reinforced that his country supports Ukraine and "will continue to work in coordination with allies" to impose sanctions on Russia.
Copyright 2022, ReliableNews.org