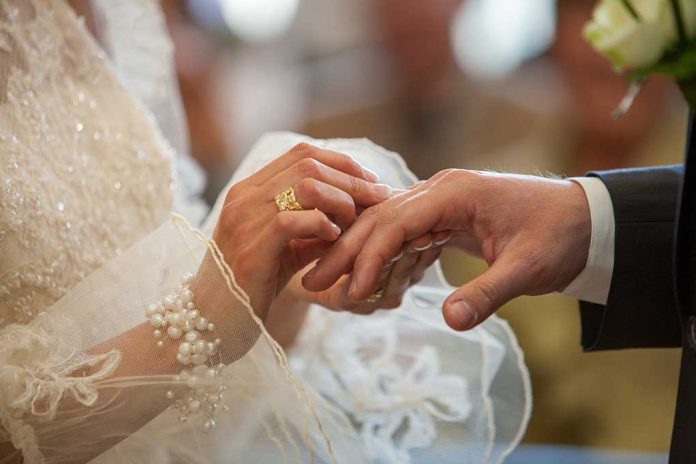 New Data Indicates That Marriage Is Declining Fast
(ReliableNews.org) – Between 1989 and 1990, nearly 2.5 million people got married in America, a 2% increase from the previous year. In 2020, the National Center for Health Statistics reported that just over 1.6 million US citizens tied the knot, the lowest number since 1963. The low numbers seem to make sense when one considers this was during the height of the pandemic when most people were steering clear of one another. However, some wonder if the trend to stay single is here to stay and what that will mean for the population.
The Birth Rate
Of course, marriage is not a prerequisite for having children, but the Centers for Disease Control and Prevention (CDC) released a report showing birth rates in a downward spiral. In fact, the organization said population growth between the summer of 2020 and the summer of 2021 was the lowest since the United States was founded — startling.
The report showed only a net gain of 0.1%. The National Review attributes the dismal number to coronavirus deaths, lower immigration numbers, and the fact that most people stayed away from one another. On top of that, it makes sense that couples would be reluctant to have babies during a global pandemic if they could avoid it.
The Pandemic Effect
The coronavirus pandemic had many people all over the world rethinking their lives. The result of isolation and life examinations led to what some refer to as the Great Resignation, where many quit their jobs in pursuit of a better existence.
Demographer William Frey told the Associated Press he expected population growth numbers to fall as a result of current circumstances but did not expect to see them "this low." He concluded that the pandemic was the main reason for the lack of growth in the country. Although Frey believes the number of deaths will go down as COVID-19 wanes, he doesn't expect growth to "bounce back" in America because of the low birth rate.
The younger generation is deciding to put off having children or electing not to have them at all. That may be due to the cost of living in America or simply a shift in lifestyle preference.
State Specifics
Immigration and travel decreased due to pandemic measures, which makes sense. However, some states were more affected by the decline than others. In over 24 states, the number of deaths exceeded the number of births. For example, there were 45,000 more deaths than births in Florida, but the number of immigrants overshadowed the fact.
Overall, 17 states plus Washington, DC decreased in population between 2020 and 2021, while the other 33 saw increases. What will next year bring?
Copyright 2022, ReliableNews.org