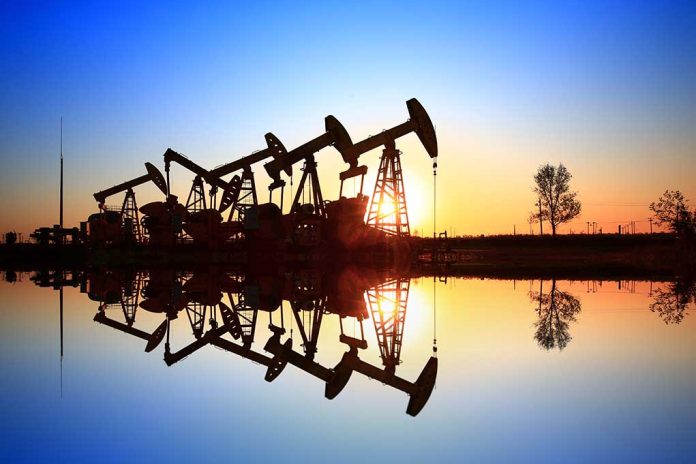 New Poll Ends Media Narrative – Democrats Are Trying To Sweep It Under The Rug
(ReliableNews.org) – Americans are paying extremely high gas prices right now and there's no sign of relief on the horizon. Meanwhile, President Joe Biden's administration has consistently pushed a green agenda, most of which hasn't been enacted, to combat climate change. But the American people and his priorities aren't aligning.
On Monday, May 9, Rasmussen Reports and Heartland Institute released a poll revealing 52% of voters think President Biden and Congress should focus on increasing oil and gas drilling, while 34% said climate change is more important. As for how the issue lands with partisans, 74% of GOP voters and 54% of voters not affiliated with the Republican or Democratic Parties want oil and gas drilling to be the government's priority — 54% of Democratic voters want the focus to be on climate change.
52% of voters believe Biden should focus more on increasing oil and gas drilling.

Just 34% think the policy focus should be on limiting climate change.https://t.co/0ciIO5qnb5#gasprices#climatechange

Sponsored by The Heartland Institute @HeartlandInst pic.twitter.com/Xf4cEQLfVG

— Rasmussen Reports (@Rasmussen_Poll) May 9, 2022
The poll also found 82% of US voters are concerned about rising gas prices and energy costs. Included in the result are the 60% who are "very concerned." The poll asked whether respondents would favor a law to dramatically increase oil and gas drilling. The majority, 60%, said they'd favor it, including 47% who would "strongly favor" a law like that.
Where do you stand on the issue of climate change vs. oil and gas drilling?
Copyright 2022, ReliableNews.org