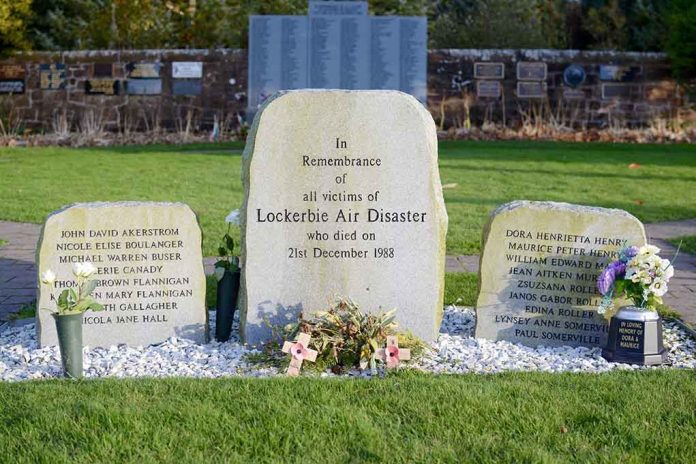 (ReliableNews.org) – On December 21, 1988, Pan Am flight 103, traveling from London to New York City, exploded over Lockerbie, Scotland, killing all 259 passengers on board and 11 people on the ground. The catalyst of the explosion was a timer-activated bomb hidden in a cassette tape player inside a suitcase in the cargo hold. According to Britannica, the passenger list spanned over 21 countries, but most of those killed were American. One of the alleged masterminds behind the attack recently had his day in court.
On February 8, Abu Agila Mohammad Mas'ud appeared in a US District Court in DC. He is facing two charges for the destruction of an aircraft that resulted in death and another charge. The suspect's public defender, Whitney Minter, entered a plea for him — not guilty — and then asked for a jury trial.
Lockerbie bombing suspect pleads not guilty in US court https://t.co/9YQkCtdyls

— BBC North America (@BBCNorthAmerica) February 8, 2023
On December 12, 2022, the Department of Justice (DOJ) notified the public that the FBI had arrested Mas'ud and brought him to the United States to face the federal charges against him. The notification stated the DOJ had requested help through INTERPOL to locate and capture the suspect for purposes of extradition and justice. A federal grand jury indicted Mas'ud on November 29. The department stated the US had been working with Scotland since the tragedy in the late '80s to hold all guilty parties accountable for the deadly event.
FBI Director Christopher Wray said although a lot of time had gone by since the Pan Am tragedy, authorities never forgot the victims and promised to "never rest" until each person is "brought to justice."
The suspect would be the third person to go to trial for the Lockerbie bombing. A court convicted Abdelbaset Ali Mohmed al-Megrahi in 2001, and he was sentenced to 20 years in prison, though he got early release for illness and later died at home. The other suspect, Lamin Khalifah Fhimah, who was tried at the same time was acquitted.
If convicted of the charges against him, Mas'ud could spend the rest of his life behind bars.
Copyright 2023, ReliableNews.org