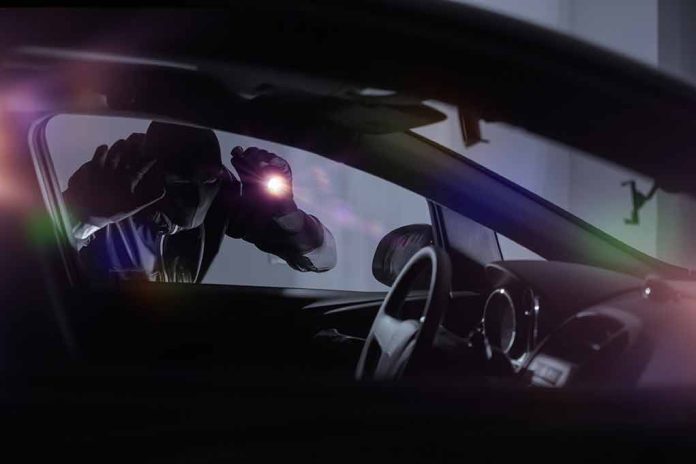 (ReliableNews.org) – Car thefts are an all-too-common crime in the US. Boston, Massachusetts, has had to deal with a rise in motor vehicle thefts over the last few years. In July, a car thief got more than he was bargaining for when he jumped into a car that didn't belong to him.
On July 14, the Boston Police Department issued a press release to the media reporting that a woman called to report that she'd pulled over on the side of the road to care for her 2-year-old. She left the pickup truck running with her infant inside. Surveillance video of the incident reportedly showed a man drop his bike and sneak around the back of the truck and up to the driver's side. Then he jumped into the vehicle and took off.
According to law enforcement, he only got a short distance away before realizing a kid was in the car. So, he doubled back and placed the infant carrier on the sidewalk. The baby's mother ran over to her toddler and picked the carrier up while the thief made off with her truck again. Law enforcement found the vehicle an hour later.
Eleven days after the incident, the police posted a message on social media stating Cristofanes Mendes, 33, was wanted for allegedly stealing the truck. The post stated he was facing charges of reckless endangerment of a child, unlicensed operation of a vehicle, larceny of a vehicle, and accused of attacking with a dangerous weapon. They shared photos of him as well. On July 31, the department announced they had arrested the suspect.
This isn't the first time someone has stolen a vehicle with a child inside. One of the odder incidents took place in Oregon in 2021. A woman left her 4-year-old inside a running, unlocked vehicle while she went inside a grocery store. While she was inside for a few moments, someone jumped into her car and stole it.
The thief then saw the child in the backseat, drove back to the store, and yelled at the woman for leaving her kid unattended in the car, even threatening to call the police on her. He told her to get her child; then he drove away again. The vehicle was discovered later that day without the suspect in it.
Copyright 2023, ReliableNews.org