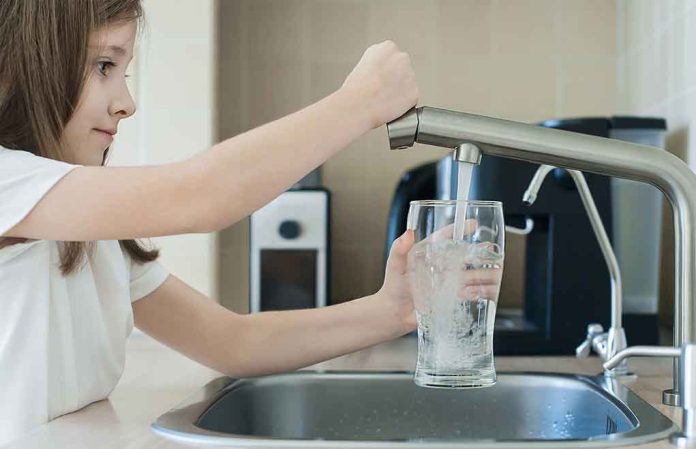 (ReliableNews.org) – One month ago, a train carrying toxic chemicals derailed in East Palestine, Ohio. After the accident, Governor Mike DeWine (R) authorized a controlled release of the chemicals on board. A man is now spearheading a program to help those impacted by the derailment.
After the train accident, officials issued a mandatory evacuation because the chemical fumes were so dangerous. Several days later, residents were told they could return home. However, they expressed concern about possible water contamination.
Officials assured the public the water was fine. Politicians, including DeWine and US EPA Administrator Michael Regan, even drank the water in public to prove it was safe.
DRINKING EAST PALESTINE WATER: with EPA Administrator Michael Regan & Ohio Governor Mike DeWine (2/21) pic.twitter.com/8fnYYkKZgQ

— Howard Mortman (@HowardMortman) February 22, 2023
Meanwhile, the mayor of East Palestine told residents with wells to drink bottled water. That's where Augustus Doricko comes in. The UC Berkeley graduate started a GiveSendGo fundraiser to provide water filtration systems for those in the area who might need them. In a Twitter post, Doricko claimed nearly 5,000 people are "at risk of drinking toxic water." It's not entirely clear where the number came from. Nonetheless, he raised over $13,000 of his $50,000 goal as of March 2.
It's been 23 days since the chemical spill in East Palestine, OH

4721 people are at risk of drinking toxic water

Authorities have yet to improve municipal or residential water filtration

So we'll do it ourselves

Donate to help give people safe water
🧵https://t.co/s7AhIxdCsS

— Augustus Doricko (@ADoricko) February 28, 2023
Some residents have decided they are not returning yet because of their fear that it's not actually safe. Others have pulled their children out of school to protect them from potential harm. People have reported rashes, headaches, and respiratory issues in the wake of the accident.
Norfolk Southern, the company operating the train at the time of the crash, is responsible for the full cost of the cleanup. President Joe Biden's administration is reportedly making a plan to provide economic relief for the residents of East Palestine. Details of that aid are not yet known. The White House has expressed that it will force Norfolk Southern to pay for long-term harm caused to people in the area.
Copyright 2023, ReliableNews.org