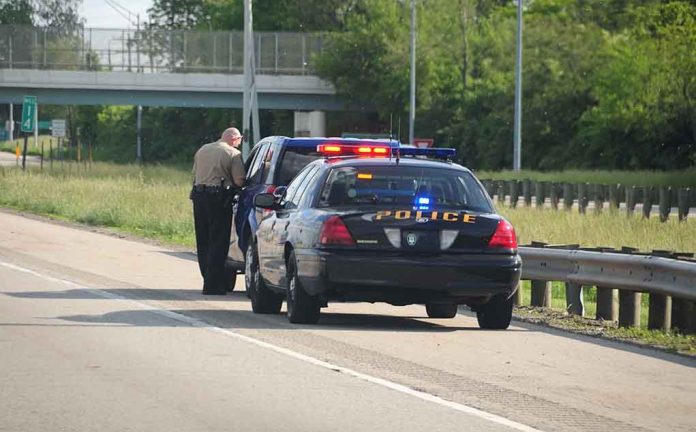 (ReliableNews.org) – On June 20, an officer from the Flagler County Sheriff's Office attempted to pull over a silver Infiniti near midnight for a traffic violation in Florida. Instead of pulling over, the vehicle reported continued at a slow pace before coming to a stop. When police approached, they found more than they expected. The man inside allegedly had an empty baggie on his lap and white powder scattered on his clothes and face.
The sheriff's office revealed on Twitter that the man, Leslie Brock, put the contents of the baggie in his mouth when police pulled him over. A field test showed the substance was cocaine. Although Brock reportedly spat some of the substance out after exiting his vehicle, it was unclear how much he swallowed. Authorities called first responders to transport the suspect to the hospital for medical treatment.
Sheriff Rick Staly said Brock was "lucky to be alive." He advised anyone else in the situation to refrain from swallowing narcotics in order to evade arrest.
Florida man 'lucky to be alive' after swallowing cocaine during traffic stop: sheriff #BreakingNews #FoxNews #Breaking https://t.co/AaTK6d8yBt

— Brett Murphy (@bmurphypointman) June 22, 2023
Police arrested Brock on several charges, including resisting arrest, tampering with evidence, and possession of cocaine. As of June 21, the suspect was in custody at Advent Health Palm Coast until doctors released him from their medical care. They planned to release him to the Flagler County Jail, nicknamed the "Green Roof Inn," after he leaves the hospital.
According to Statistica, cocaine poisonings in the United States have soared between 2015 and 2021. The data shows just over 6,700 people overdosed in 2015, and the figure nearly doubled the following year. In 2021, deaths from overdosing on cocaine grew to almost 25,000. The National Institute on Drug Abuse reported that around 4.8 million people in the United States over 12 years old admitted to using cocaine in 2021. In addition, 1.4 million people that year said they suffered from a cocaine use disorder.
Copyright 2023, ReliableNews.org