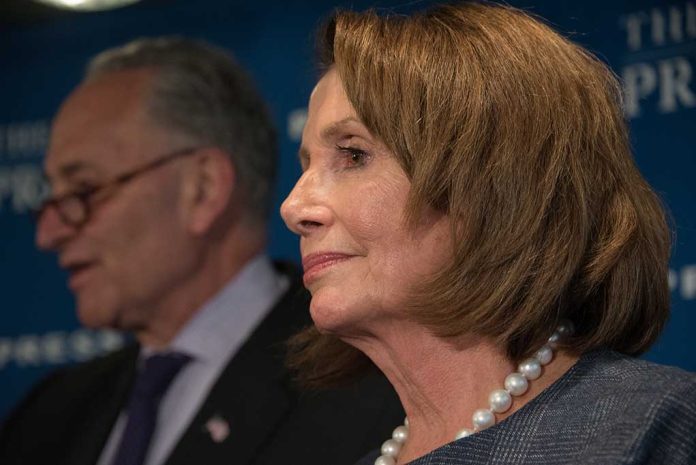 (ReliableNews.org) – On January 6, 2021, a riot broke out on Capitol Hill by people who were upset about the impending certification of Joe Biden's presidential victory. The Justice Department revealed federal authorities have arrested more than 950 defendants who are accused of being involved in the incident that day. One of the men allegedly broke into the office of then-Speaker of the House Nancy Pelosi (D-CA). His case is now in front of a court.
On Tuesday, January 10, the trial of Richard "Bigo" Barnett began. He became one of the faces of the riots. The Arkansas resident was one of the protesters who broke into the former speaker's office. Photos of him with his feet on Pelosi's desk while he leaned back in her chair spread across the internet and were splashed on television screens across the US.
Richard "Bigo" Barnett had a stun gun tucked into his pants when he stormed the Capitol, invaded Pelosi's office and posed for a photo that became one of the attack's more well-known images, prosecutors said >> https://t.co/BRqRuNsygp via @AP

📸: Saul Loeb (AFP/Getty Images) pic.twitter.com/SfOErxZaBx

— Evan Schreiber (@SchreiberEvan) January 11, 2023
Unlike some of the people involved in the riot, federal authorities arrested Barnett just two days after the event. He was charged with a number of crimes, including
aiding and abetting:
entering and remaining in a restricted building or grounds with a deadly weapon;
obstruction of an official proceeding;
disruptive and disorderly conduct in a restricted building with a deadly weapon;
disorderly conduct in a capitol building;
entering and staying in certain rooms of the Capitol Building;
theft of government property, and;
demonstrating, parading, or picketing in a capitol building.
Barnett was reportedly carrying a stun gun when he entered the Capitol Building. Prosecutors are arguing he was ready to commit violence. According to the Associated Press, Barnett's defense attorneys are arguing he was just swept up in the crowd and entered Pelosi's office by accident while looking for the bathroom. He has rejected a plea deal that would have required him to serve over 5 years in prison. He's pleaded not guilty to the charges against him.
Copyright 2023, ReliableNews.org