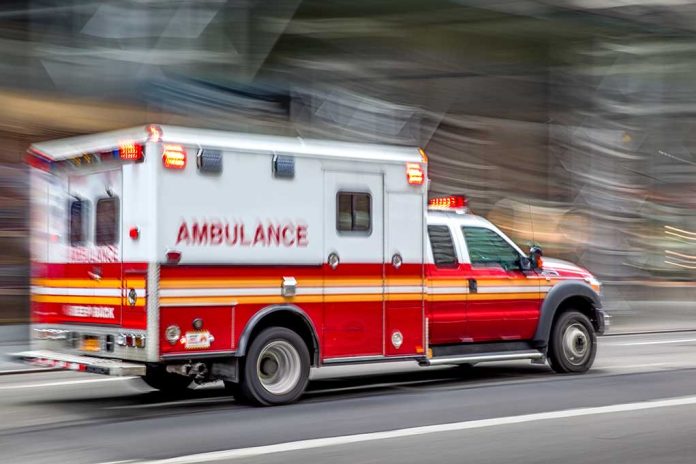 Gory 4th Of July Incident — Man's Hand Completely Blown Off
(ReliableNews.org) – Every year, millions of Americans light fireworks at their homes to celebrate Independence Day. With the day of fun also comes injuries and even deaths from the explosive devices. A Florida man is now recovering after a particularly catastrophic injury, a Texas man is dead, and a child has also died from fireworks accidents over the holiday weekend.
On July 2, the Broward Sheriff's Office responded to a call involving fireworks in Lauderdale Lakes. Reports indicate the man lit one of the devices and it exploded, ripping his hand off of his arm. The man traveled to the hospital in a private vehicle but left the limb behind. First responders transported the hand to the hospital but doctors weren't able to reattach it.
Fourth of July festivities were red, white, blue and bloody for one Florida man, who had his hand blown off in a firework explosion.

"As soon as he light it, it went off in flames."https://t.co/mo4e5LJysv

— New York Daily News (@NYDailyNews) July 4, 2022
In another incident in Texas, 43-year-old Pablo Ruiz was shooting off fireworks after midnight on July 5, when he decided to place one on top of his head. The mortar-style firework exploded into his skull, exposing brain matter. Officials think the device exploded from the bottom and pierced his head. He died at the scene from head trauma.
On Sunday, July 3, Camrynn Ray McMichael, of Mt. Vernon, Indiana, died in a fireworks accident. It's not clear what exactly happened to the child, but his mom Kyrra McMichael, posted a message on social media warning other parents of the dangers of fireworks, saying she held her son's "broken skull [and] brain" in her hands" and they should never "buy those damn things!"
Copyright 2022, ReliableNews.org