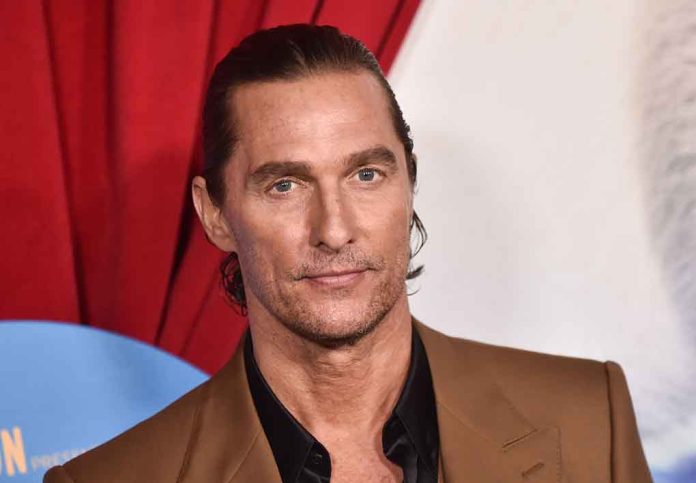 Matthew McConaughey Presses White House – Pushes Gun Control Agenda
(ReliableNews.org) – Actor Matthew McConaughey grew up in Uvalde, Texas. His mother taught kindergarten about a mile away from Robb Elementary School. When the massacre took place on May 24, he traveled to his hometown the next day to meet with the families of the victims. He's now pushing for gun control for them, but not everyone is happy about his position.
On Tuesday, June 7, McConaughey was in Washington, DC to speak to lawmakers about possible gun control bills. The Texas-born actor also attended the White House Press Briefing where he spoke to reporters for more than 20 minutes about the children and teachers who lost their lives.
One of the children McConaughey spoke about was 10-year-old Maite Rodriguez. The little girl wanted to be a marine biologist and every day she wore green high-top Converse sneakers with a heart drawn on them to school. In the aftermath of the shooting, her shoes and DNA were the only way she was identifiable because the exit wounds from the AR-15 bullets were so large.
The actor asked lawmakers to pass stricter background checks, red flag laws, raise the age of purchase for assault weapons, and put other measures in place. Many applauded McConaughey's efforts, but not everyone was impressed with the actor using his platform to restrict gun ownership.
I actually appreciate the Matthew McConaughey speech bc the reaction to it is a strong revealing moment for those who just want to go along with Hollywood vs those who will take a stand for our rights

— Jack Posobiec 🇺🇸 (@JackPosobiec) June 9, 2022
What are your thoughts on McConaughey's speech? Do you support any measures to regulate guns?
Copyright 2022, ReliableNews.org