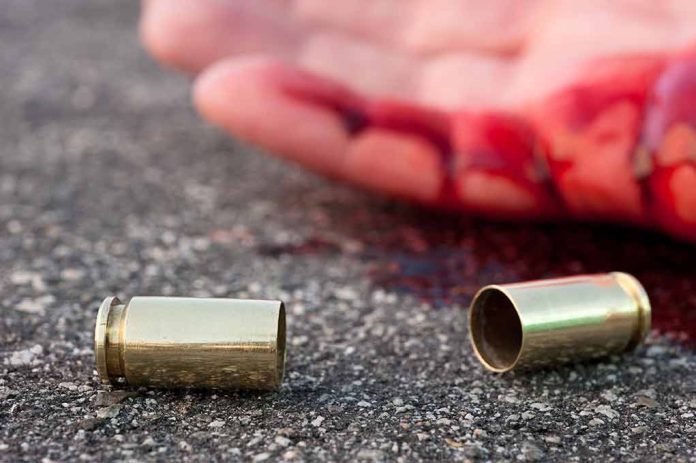 (ReliableNews.org) – February 16, 2022, was an ordinary day in Jacksonville Beach, Florida. Microsoft executive Jared Bridegan, 33, dropped his twins off with his ex-wife, Shanna Gardner-Fernandez. But he never made it back home, and now prosecutors have charged the mother of his twins with murder.
After dropping his children off around 8 p.m., Bridegan began the drive back to his St. Augustine home. His 2-year-old daughter was in the back seat of his black Volkswagen Atlas. Suddenly, he came upon a tire in the middle of the road. So, the devoted father of four pulled over to move the object out of his way. As he was standing outside of his car, someone shot him multiple times, killing him.
After the murder, police zeroed in on 62-year-old Henry Arthur Tenon as the shooter. He implicated Mario Fernandez Saldana, the new husband of Bridegan's ex. Tenon pleaded guilty to second-degree murder and will testify against Fernandez Saldana. Prosecutors are seeking the death penalty against the latter.
Still, even though those two men were in custody, there was a belief that they didn't act alone. Finally, 18 months after the murder, the final puzzle piece has allegedly fallen into place.
On August 17, a grand jury returned an indictment for Shanna Gardner-Fernandez. The state attorney working on the case for Jacksonville's Fourth Judicial District, Melissa Nelson, announced the indictment. She said the Gardner-Fernandez has been charged with child endangerment, conspiracy to commit first-degree murder, and first-degree murder.
Kirsten Bridegan, the victim's widow, delivered a statement at the press conference. She cried as she told those watching that her husband's loved ones had "hoped and prayed" that day would come. She stood next to her brothers-in-law, Justin and Adam, and said the latest attest ended "one horrific chapter in [their] pursuit for justice" but said the "next chapter will be excruciating."
Prosecutors will seek the death penalty against Gardner-Fernandez, as well.
Copyright 2023, ReliableNews.org