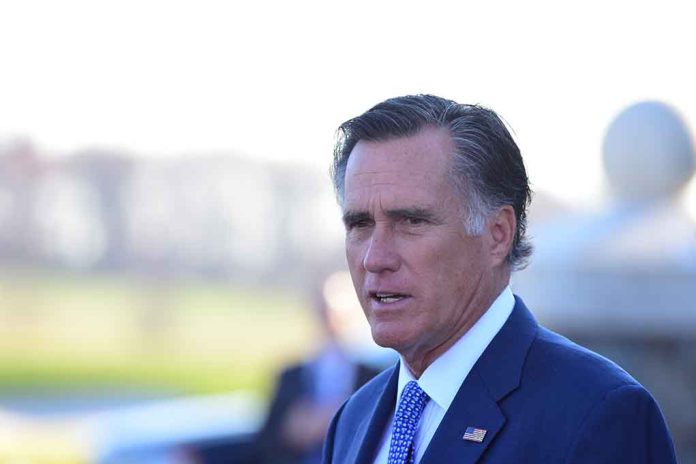 Top "RINO" Admits This Shocking Truth About Trump
(ReliableNews.org) – Senator Mitt Romney (R-UT), once the shining star of the GOP, has moved to the fringe of his party in recent years. That's because he has never jumped on former President Donald Trump's train. However, the moderate Republican is now admitting Trump has a lot of power within the party.
In a May 4 interview with POLITICO, Romney acknowledged the former president still has a strong grip on the party. He said he can't imagine anything that would diminish the support Trump has within the GOP. Further, if the 45th POTUS decides to run to be the Republican Party's nominee in 2024, he believes Trump is "very likely to achieve that."
Romney: "If [Trump] wants to become the nominee in '24, I think he's very likely to achieve that." https://t.co/fzPGLyWBaw pic.twitter.com/UqRrgTbv2C

— Newsmax (@newsmax) May 6, 2022
Senator Romney has learned the hard way how much support Trump has within the party.
Romney is one of the members of the Never Trump movement that sprang up before the 2016 presidential election. There was a time when he tried to convince POTUS 45 to appoint him as secretary of state at the beginning of the administration. Romney even praised Trump, saying he had a "message of inclusion and bringing people together." The truce between the men was short-lived. Trump refused to give Romney a job and the Utah resident ran for Senate instead, where he ended up voting twice to convict the POTUS on impeachment charges.
Now, years later, Romney has been pushed out of his once prominent role in the party, replaced by Trump. The base has turned against the senator, labeling him a RINO. The story of Mitt Romney's downfall proved just how much power the 45th president holds, power that will only be solidified in 2024 if he chooses to run again. The message is clear: Jump aboard the Trump train or get out of its way, either way it won't be stopped.
Do you think RINOs like Romney have a place in the GOP or do you want MAGA supporters to replace them all?
Copyright 2022, ReliableNews.org