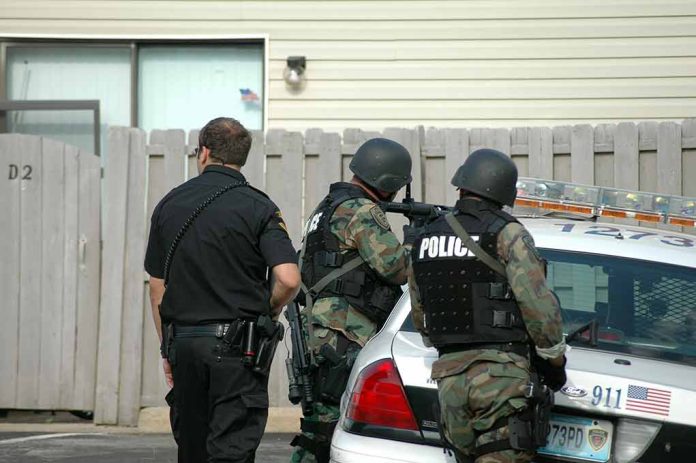 (ReliableNews.org) – Several videos of a massive brawl went viral online recently. The fight broke out on the Montgomery Riverfront in Alabama. The mayor has now condemned the violence.
The fight took place on August 5. According to reports, it started just before 7 p.m. when a worker tried to clear the area along the riverfront so the Harriott II Riverboat could dock. A group of boaters refused to comply with a request to move their vessel. The group of white boaters then attacked the black worker. The incident spiraled from there.
Black people who were in the vicinity ran to aid the worker. A 16-year-old boy even jumped off of the Harriett and swam to the dock to help the man. From there, chaos ensued. Videos of the incident show more than a dozen people fighting one another. The police eventually arrived on the scene and broke up the brawl.
Leslie Mawhorter, 52, witnessed the fight. She told NBC News that the entire incident started because the boaters "didn't think the rules applied to them." She said that when law enforcement arrived, they listened to the witnesses about who the aggressors were.
Mayor Steven L. Reed issued a statement the day after the fight, applauding the Montgomery Police Department's swift actions. He said they detained "several reckless individuals for attacking a man who was doing his job."
Last night, the Montgomery Police Department acted swiftly to detain several reckless individuals for attacking a man who was doing his job. Warrants have been signed and justice will be served.

This was an unfortunate incident which never should have occurred. As our police… pic.twitter.com/5cywOwA6Uz

— Mayor Steven L. Reed (@MayorofMgm) August 6, 2023
Montgomery Police Chief Darryl J. Albert announced three individuals were charged with assault. Richard Roberts, 48, Zachary Shipman, 25, and Allen Todd, 23, were all involved in the fight. One was in custody, and the other two were supposed to turn themselves in on August 8. However, Mayor Reed posted on X, formerly Twitter, that the two had not honored their agreement to turn themselves in, so the police department was forced to look for them.
Looking forward to joining @CNNThisMorning to share updates on Saturday's incident at the riverfront.

We have one assailant from the pontoon boat in custody. Two others did not honor their agreement to surrender to authorities so MPD will do what it takes to bring them to…

— Mayor Steven L. Reed (@MayorofMgm) August 9, 2023
The police chief made it clear that although the confrontation began with a group of white people attacking a black man, it was not a hate crime. He said the "elements did not exist" to charge the defendants for that type of crime.
Copyright 2023, ReliableNews.org