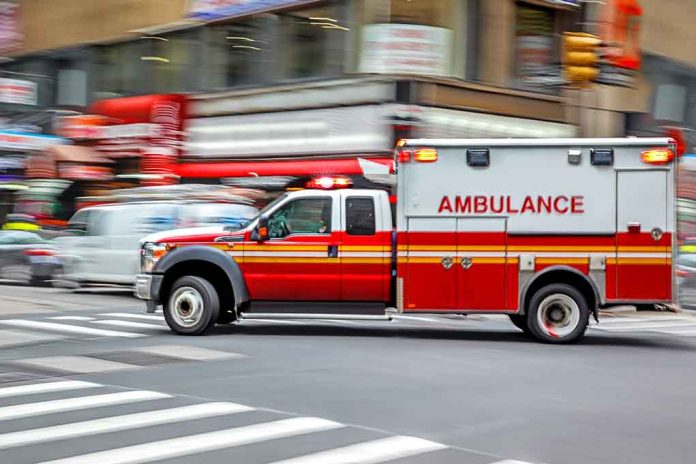 (ReliableNews.org) – The summer is a popular time of the year for outdoor concerts across the nation. Though the season brings sunshine, it can also bring unpredictable weather. Concertgoers in Denver, Colorado, experienced that recently.
On Wednesday, June 21, severe storms moved through the area, including the Red Rocks Amphitheater, where former One Direction singer Louis Tomlinson was set to play a concert. The National Weather Service's Boulder office issued a severe thunderstorm warning just after 9 p.m., telling residents the storm was capable of producing golf-ball-sized hail and winds up to 50 mph. About two and a half hours later, they issued another warning, telling people to take cover and tagged the amphitheater.
Significant storm near Morrison, with radar indicating golf ball sized hail or larger near @RedRocksCO. Take cover with this storm!!

Please continue to relay reports to our office. #cowx pic.twitter.com/S7EcSWmnr5

— NWS Boulder (@NWSBoulder) June 22, 2023
The skies opened up at the amphitheater, raining golf-ball-sized hail down on concertgoers who were waiting for Tomlinson. They were told to seek shelter right before the storm started. Many of them ran to their vehicles. Ashlie Scott, one of the fans who was there, told CNN that it was "like a crazy movie scene." There was a lot of lightning, and the storm moved through faster than she expected.
Tomlinson eventually canceled the show, apologizing to his fans. He said he hoped his injured supporters were on a path to recovery.
— Louis Tomlinson (@Louis_Tomlinson) June 22, 2023
West Metro Fire posted a tweet just before 2 a.m., reporting seven people were sent to area hospitals with non-life-threatening injuries, including broken bones. The department said that 80 to 90 people were treated by medical workers on the scene.
UPDATE: Red Rocks hail storm- 7 people transported to area hospitals with non-life-threatening injuries. A total of 80 to 90 people treated on scene. Injuries include cuts and broken bones. Sporadic hail still coming down in Morrison area. @StadiumMedical pic.twitter.com/gM7KKNqocW

— WestMetroFire (@WestMetroFire) June 22, 2023
Jessica Thompson was one of the dozens of people who were injured during the storm. She told FOX Weather that an announcer at the concert told everyone to take cover, and that's when she was hit by hail. She and her friends hid under a merchandise table, covering their heads with the boxes that held the goods. Thompson said she could hear people crying as they were smacked by the large balls of ice.
Tomlinson has said he intends to try to reschedule the show in the future.
Copyright 2023, ReliableNews.org