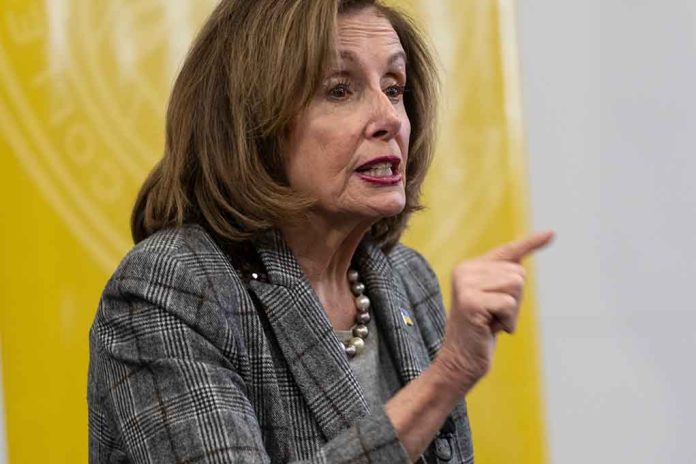 (ReliableNews.org) – Do as I say, not as I do. That seems to be a philosophy former Speaker of the House Nancy Pelosi (D-CA) lives by. After all, it wasn't that long ago that she got her hair done at a salon that was closed due to pandemic lockdowns. New reports indicate she's thumbing her nose at one of the easiest ways to reduce her carbon footprint.
On May 3, Fox News Digital reported Pelosi has continued to use private jets, despite publicly pushing the Democratic Party's climate change agenda. Her campaign paid more than $43,000 on chartered flights in March. The planes were rented from Advanced Aviation, a company she has spent almost $700,000 on in recent years.
Pelosi continues massive private jet spending after relinquishing leadership post https://t.co/W8PhUmTAfF #FoxNews

— Greg Terrell (@greg_terrell) May 3, 2023
Private planes are one of the worst forms of travel for the environment. A study recently found private flights have caused a surge in carbon emissions. In the US, those flights accounted for a 23% increase in emissions. Over the next three years, chartered flights are expected to create 770 megatons of emissions. Private jets create 10 times more carbon emissions than commercial flights and 50 times more than trains.
Pelosi isn't the only climate activist who has used private air travel while lecturing the American people about the emissions they create. In February, Fox News Digital discovered Democrats had spent at least $1.4 million on private jet travel between 2021 and 2022.
Senator Bernie Sanders (I-VT) spent more than $71,000 on private jets. Meanwhile, his website claimed, "Climate change is a global emergency" and warned there are less than 11 years to move away from fossil fuels. The senator is one of the lawmakers pushing the multitrillion-dollar Green New Deal.
The Democratic National Committee (DNC) has spent more than $337,000 on private jets. The Democratic Senatorial Campaign Committee (DSCC) has spent nearly $224,000 on cushy flights. But — climate change is important, they say.
Copyright 2023, ReliableNews.org