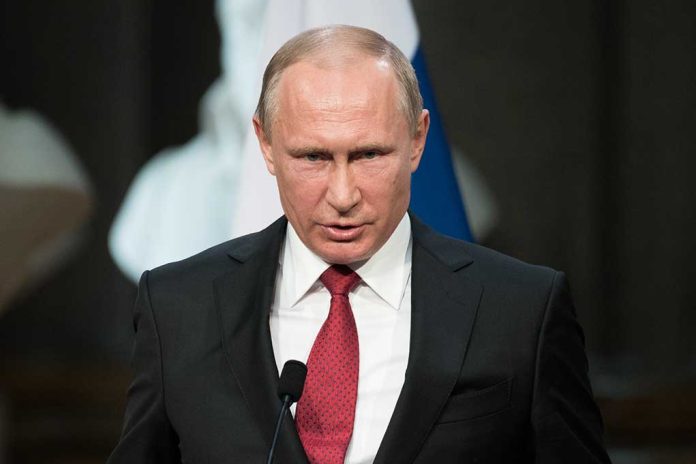 Putin Issues Chilling Threats as Ukraine Conflict Escalates
(ReliableNews.org) – Russian President Vladimir Putin ordered the largest air strike campaign on Ukraine since the beginning of the war. On October 10, his military hit several cities during rush hour. The authoritarian leader has issued a chilling threat.
In pictures: Russia launches biggest air strikes since start of Ukraine war https://t.co/v9Lc2FeFsa 📷 Gleb Garanich pic.twitter.com/RCrWgZm1KB

— Reuters Pictures (@reuterspictures) October 10, 2022
Putin's air strikes have killed at least 11 people and injured dozens of others. The attacks came after a Ukrainian truck bomb detonated on the Kerch Strait Bridge, damaging the only structure that connects Russia to Crimea. The bridge was not just a major artery for supplies in the war on Ukraine, but also a symbol of pride. When it exploded, Putin was furious.
According to The Guardian, the Russian president has now issued another threat. During a televised address to his security council, Putin said "the response from Russia will be severe" if Ukraine attacks again. Dmitry Medvedev, deputy head of the country's security council, said he thinks his nation's military should "aim for the complete dismantling of Ukraine's political regime." In other words, he wants to try to oust Volodymyr Zelenskyy.
Reports indicate that Russia is hitting civilian areas instead of military and government installations. Putin's defense ministry claims it's hitting "designated targets."
They are not even trying to make this look like they're hitting military facilities.
Russians are just randomly firing missiles upon downtown Kyiv, which makes zero sense – monuments, touristic sights, avenues.

— Illia Ponomarenko 🇺🇦 (@IAPonomarenko) October 10, 2022
For now, it seems Russia is solely targeting Ukraine and doesn't intend to hit any NATO territories.
Copyright 2022, ReliableNews.org