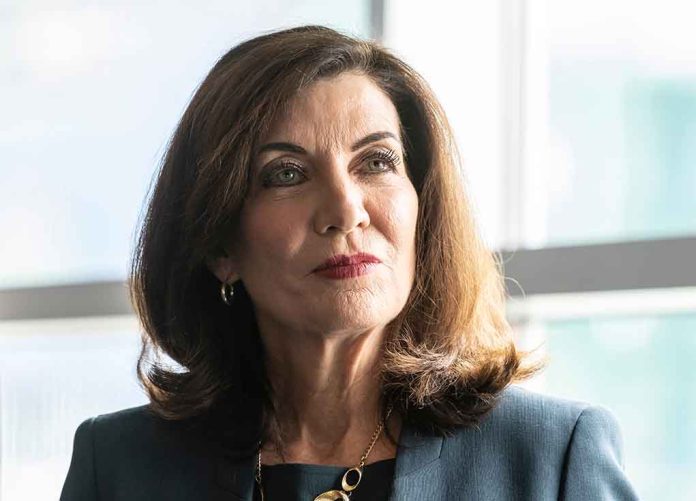 New York Gubernatorial Candidate Reveals Ongoing Leadership Corruption — It's Worse Than Previously Thought
(ReliableNews.org) – Crime has increased in the US over the last two years. New York City has been hit especially hard, with shootings having more than doubled compared to 2019. The GOP candidate for the state's gubernatorial race is now criticizing the sitting governor for being soft on criminals.
On Wednesday, July 27, Rep. Lee Zeldin (R-NY) released a new ad slamming Democratic Governor Kathy Hochul over the cashless bond system for criminals. In the new campaign video, he discusses his own attack earlier in the month. David G. Jakubonis, 43, confronted the congressman during a speech to veterans. He was holding a black self-defense keychain that had two sharp points. The candidate grabbed him, and security tackled the man. Later, he was released from custody on his own recognizance.
In the video, Zeldin claims Hochul refuses to end the cashless bond program even as she watches crime rise. He tells New Yorkers to protect their families by voting for him.
🚨Just released our new ad, "REPEAL Cashless Bail!", now airing digitally statewide. Just this summer alone, there have been A LOT of high profile cases of suspects released under cashless bail. We have to FIRE Kathy Hochul on 11/8, repeal cashless bail, & secure our streets. pic.twitter.com/KCz80FPzgG

— Lee Zeldin (@leezeldin) July 27, 2022
Conservatives have blamed the governor for the attack because she sent a press release hours before the speech telling her supporters to RSVP. Hochul's campaign listed several addresses for the congressman's speaking engagements.
Lee has also slammed Hochul for refusing to fire Manhattan District Attorney Alvin Bragg after he filed charges (and subsequently dropped them) on a bodega worker who stabbed an attacker to death in self-defense.
Jose Alba should never have been charged and sent to Rikers Island in the first place. This was a clear cut case of an innocent man acting in self-defense. Alvin Bragg was so wrong to put Alba through the ringer as long as he did. pic.twitter.com/xTYu0XtL9z

— Lee Zeldin (@RepLeeZeldin) July 19, 2022
Essentially, Lee believes Democrats who run the state are locking up people who don't deserve it while actual criminals are given breaks. What do you think?
Copyright 2022, ReliableNews.org