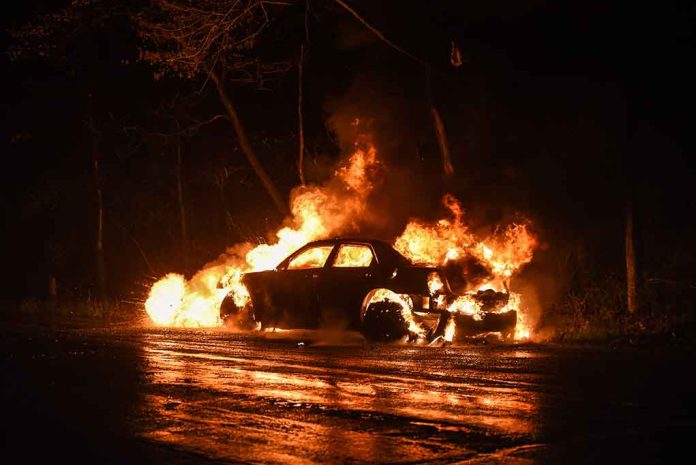 (ReliableNews.org) – Running back Leonard Fournette is no stranger to high-stress situations. After all, the former Tampa Bay Buccaneer did play alongside the greatest NFL quarterback of all time, Tom Brady. Recently, he was in another stressful situation — but this could have cost him his life.
On June 27, Fournette was driving on Interstate 275 near Fowler Avenue in Tampa, Florida, when his Dodge Durango SRT Hellcat caught fire. Later that day, he posted a video on Instagram showing the remains of his black SUV and its charred custom interior. He thanked God in the caption and explained that it caught fire while he was in it, but said, "I'm still blessed." In the video, the heavily damaged vehicle is still sitting on the shoulder of the interstate.
Leonard Fournette's car caught fire while he was driving on the highway today, but he was able to escape uninjured 🙏

"I am still blessed"

Fournette after the incident

(via leonardfournette/IG) pic.twitter.com/ZVCECH2ZZx

— Bleacher Report (@BleacherReport) June 27, 2023
The Florida Highway Patrol told local reporters that the incident happened just after 10:30 a.m. Fournette was able to pull his vehicle onto the shoulder and escape. Hillsborough County Firefighters and Tampa Fire Rescue responded to the scene.
Tampa Fire Rescue released a statement saying they were "thankful" the Super Bowl champion wasn't injured during the incident.
The Durango SRT Hellcat returned in 2023 as the most powerful gasoline-powered SUV on the market. It can reach speeds of more than 180 mph. The Dodge Durango has never been the subject of a recall because of the risk of fire. However, Stellantis has issued recall notices for fire risks related to the Jeep Cherokee and Ram diesel engines.
Fournette was the number four overall draft pick for the Jacksonville Jaguars in 2017. He began playing for the Bucs in 2020 and was released from the team this March. At the time, he explained that he wanted to be released and said there was "no bad blood" between him and the franchise. He's currently a free agent after playing three seasons with the team and winning a Super Bowl championship.
Copyright 2023, ReliableNews.org