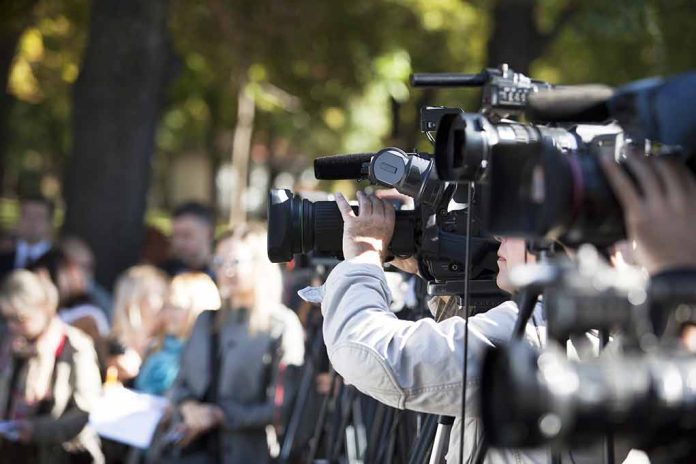 (ReliableNews.org) – Social media influencers are often thinking up ways to attract attention. Influencer Kai Cenat, 21, used the promise of free electronics to his followers if they showed up at an event in New York City. Thousands of eager fans descended on the city leading to chaos, and now the police are investigating.
On Friday, August 4, Cenat told his Twitch followers that he was giving away Playstation 5 consoles and other prizes in Manhattan's Union Square. His announcement came at 12:30 p.m., and within an hour, more than 300 people were at the park. Later, NYPD Chief Jeffrey Maddrey told the media that the initial crowd was not very big, and about what law enforcement would expect to see. However, those 300 people soon grew to about 6,000.
Watch live as NYPD executives provide an update to today's incident in Union Square Park. https://t.co/J8fJfr3we1

— NYPD NEWS (@NYPDnews) August 5, 2023
Fans of the streamer blocked traffic, climbed up lampposts, threw objects at police officers, and exhibited other bad behavior. At one point, people lit fireworks, which caused many to panic and start running.
Cenat tried to run away from the chaos. Police charged him with a felony first-degree rioting and two misdemeanors for inciting a riot and unlawful assembly. At least 66 other people were arrested; many were minors. The charges included resisting arrest and criminal possession of a weapon, among others.
The NYPD began releasing photos of those involved in the riot. Maddrey said the police were going to need the public's help identifying more people.
🚨WANTED for CRIMINAL MISCHIEF: Recognize them? On 8/4/23 at 3:50 PM, in the vicinity of E. 14 St & Union Square East, a group of unidentified individuals damaged parked vehicles by kicking & jumping on them. Have any info? DM @NYPDTips or anonymously call 800-577-TIPS. pic.twitter.com/jV7VS61Pnz

— NYPD NEWS (@NYPDnews) August 7, 2023
Twitch released a statement saying the company is aware that its "audience and influence are growing," and that means it has "greater responsibility." The streaming platform's officials were "deeply disheartened by the outbreak of disorderly conduct" and said they don't "condone that behavior." Cenat's group, Any Means Possible, also issued a statement indicating nobody anticipated the number of people would show up at the event, but it was "deeply disappointed" by what happened.
Cenat must appear in court on August 18.
Copyright 2023, ReliableNews.org