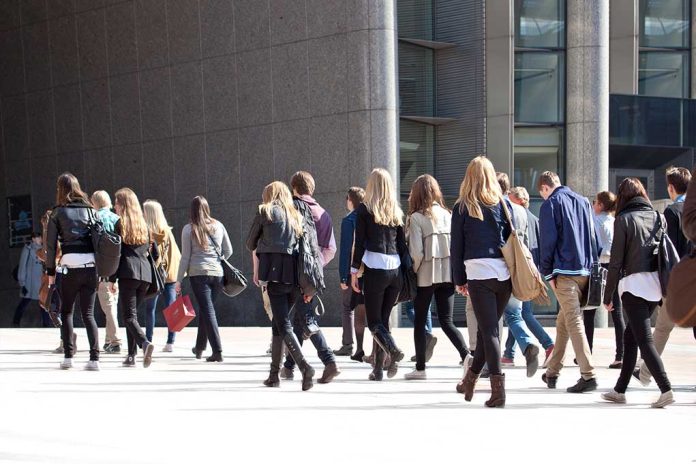 New York Times Changes COURSE – Issues Employees Final Notice
(ReliableNews.org) – Figures from the Wall Street Journal showed over 27 million people across the United States worked from home in 2021. Sparked by the coronavirus pandemic, this number represented over three times the number of workers with remote jobs just two years prior. Although working from a home office takes some adjusting for both the employee and the company, all parties involved seemed to adjust and keep the workforce functional. Recently, businesses like The New York Times have decided to start calling their employees back to the workplace, causing strife among those who want to remain at home.
Trouble at the Times
The publication required workers to return to the office "three days a week," but over 1,300 people flat out refused. They said commuting from their homes would cost them more in gas, clothing, and food, and they signed a pledge stating they would not comply. A New York Times spokesperson told the New York Post each department got to decide how many days their section employees would have to appear in person. The company said it likes a "hybrid work environment" and thinks it works well for the business.
The paper apparently offered workers "branded lunch boxes" as a return-to-work incentive, which didn't go over well. Video Journalist Haley Willis stated workers want "respect and a fair contract instead."
The @nytimes is giving employees branded lunch boxes this week as a return-to-office perk. We want respect and a fair contract instead — so I'm working from home this week along with 1,300 of my @NYTimesGuild and @NYTGuildTech colleagues, with support from @WirecutterUnion.

— Haley Willis (@heytherehaley) September 12, 2022
One editor at the NYT, Tom Coffey, said people are angry. He said the demand is unreasonable, considering the economy is driving prices through the roof and nobody there is considering significant "salary increases." Reports said a 4% pay increase was on the table, but that doesn't cover half the inflation rate at the moment, which currently sits at 8.3%. Inside sources revealed pay negotiations were not going well, with the News Guild calling for a 5.25% hike for the cost of living expenses on top of an 8% raise. The group also wants the remote option to remain in play for workers with "no mandatory return" for the next 10 months. The NYT responded with an offer of a 10% raise over the next two and a half years.
The Future of the Cubicle
Working from home might not work for every business, so there's no reason to believe the cubicle will go away entirely. Plus, some people want to return to the office, keeping their professional and personal lives separate.
What do you think about remote work? Do you feel companies should force workers back to the office?
Copyright 2022, ReliableNews.org