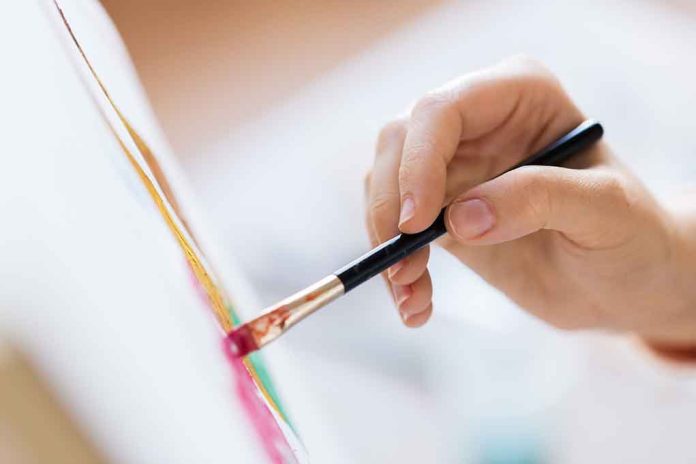 (ReliableNews.org) – Shepard Fairey is a graphic artist and muralist from Charleston, South Carolina, whose portrait of professional wrestler Andre the Giant launched him into the public eye. In 2008, the artist created the "Hope" poster for former President Barack Obama when he was campaigning for the White House. That work reportedly pushed Fairey into the mainstream, and he achieved notoriety in counterculture society. Recently, he shared his opinion on cancel culture.
On February 18, Fairey participated in an interview with Sky News to talk about his work. During the discussion, he said, "cancel culture is a problem" because it makes people afraid about what they can and can't say or express in their works. The artist said he believes many people are afraid to share their opinions for fear someone "might disagree" and cancel them.
"Shepard Fairey, the artist behind the iconic 'Hope' poster from former President Barack Obama's 2008 campaign, dissed cancel culture in a recent Sky News interview, criticizing the trend for making people afraid to speak their mind."https://t.co/XgNgUayWqP

— Unsilenced Majority (@UnsilencedOrg) March 1, 2023
The artist said people had approached him in the past and criticized him for painting "anything other than white people" simply because he happens to be Caucasian. Fairey countered with, "we're all humans." Among the artist's works include portraits or murals of Obama, Andre the Giant, Trayvon Martin, Nelson Mandela, Bob Marley, and Dr. Martin Luther King, Jr. In other words, his work doesn't discriminate between black and white. He says everyone deserves respectful "representation." The artist has no interest in curtailing his art to fit into a box that matches his ethnicity. He believes that way of thinking is "narrow minded and exclusionary," and he'd rather spark conversation with his work.
Although cancel culture is not a new concept, the practice has been pervasive throughout society in recent years. TheThings listed 10 celebrities who were affected by public cancellation, including Kanye West, JK Rowling, Ellen DeGeneres, and Marilyn Manson. Some who experience cancel culture were able to apologize for their perceived errors and climb back up toward their previous status, while others experience a more permanent change in their lives.
Copyright 2023, ReliableNews.org