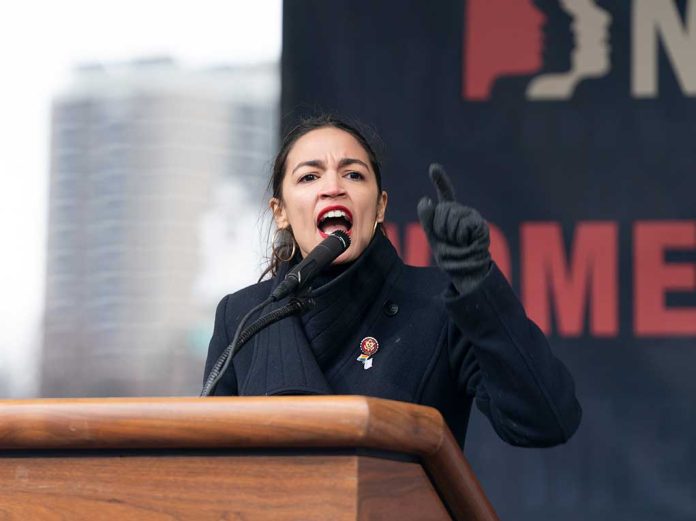 AOC Promises To Double Down After Hecklers Target Her
(ReliableNews.org) – Rep. Alexandria Ocasio-Cortez (D-NY) is running for reelection in Queens. The congresswoman was recently targeted at a campaign event. Afterward, she promised to double down on support for the LGBTQ+ community.
On October 19, AOC held an event at a Boys and Girls Club in the Astoria neighborhood of Queens. Protesters began shouting, "AOC has got to go!" to the sound of a beating drum. One of the hecklers told her that a policy providing housing for seniors who are part of the LGBTQ+ community would discriminate against straight people. Another yelled, "there's only two…genders." While the protesters shouted at the congresswoman, she danced and admonished them as "classy."
The video of the incident made rounds on the internet, prompting a response from the congresswoman. She claimed the hecklers were shouting "Westboro Baptist-style anti-LGBT+ slogans," referring to the notorious hate group that protests the funerals of American soldiers and other events.
These homophobes were yelling Westboro Baptist-style anti-LGBT+ slogans. What do you think I'm gonna do? Take them seriously?😂💃🏽🪩

If you want to associate w/ their views, that's your business.

But NY-14 will ALWAYS have a champion for LGBTQ+ people on my watch. Period. 🏳️‍🌈🏳️‍⚧️💕 https://t.co/aFTp8hv8SH

— Alexandria Ocasio-Cortez (@AOC) October 23, 2022
AOC claimed she would continue to be a "champion for LGBTQ+ people" as long as she is representing the NY-14 district.
The congresswoman is in a reelection fight against Tina Forte (R). The Democrat has raised more than $11 million this cycle, while her opponent still sits under $1 million. Experts predict AOC won't have a problem winning reelection in the deeply Democratic district.
Copyright 2022, ReliableNews.org