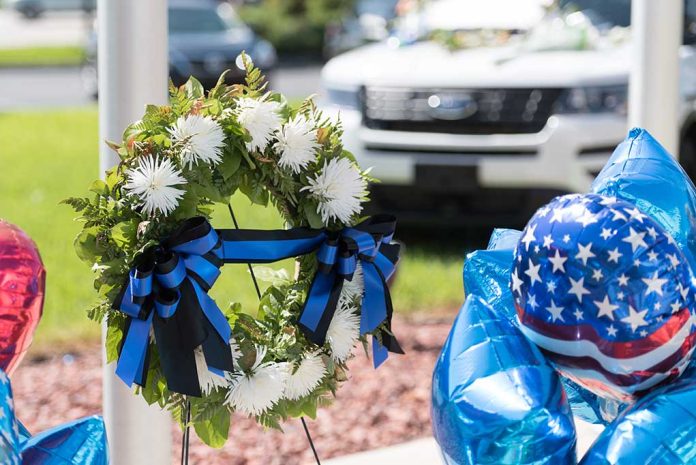 (ReliableNews.org) – Every day, police officers put their lives on the line to keep their communities safe. The risk is part of the job. But even something as simple as a traffic stop can turn into a dangerous situation for authorities. When approaching a vehicle, police have certain procedures in place to keep them as safe as possible because they never know who is behind the wheel.
On May 22, 35-year-old Sheriff's Deputy Caleb Conley of Scott County, Kentucky, pulled over a vehicle on Interstate 75 near Georgetown just before dinnertime. During the interaction, Conley was shot and killed during the exchange, and the suspect fled the scene. Sheriff Tony Hampton held a news conference to update the public about the tragic situation. He said someone called in the shooting, and first responders quickly arrived at the scene.
Kentucky State Police (KSP) released a statement confirming Conley was shot and transported to the hospital, where they pronounced him dead. The organization said the KSP's Critical Incident Response Team (CIRT) opened an investigation into the matter. The staff from the state's police headquarters stood outside to show respect during a long procession honoring the fallen officer.
After the tragic event, authorities reportedly received word of another shooting close by. When they arrived, ABC News said they found another victim who told them a man had shot him and taken his vehicle. Police tracked down the car and the suspect — 45-year-old Steven Sheangshang. He was subsequently arrested and charged with multiple crimes, including murder of a police officer, theft of an automobile, and possession of a handgun by a convicted felon.
The Lexington Herald-Leader reported that Conley was a decorated officer who won the Deputy of the Year award in 2022. He started on the job in July 2019 after serving eight years in the US Army. Hampton said Conley "loved his job." The officer is survived by his wife, parents, and two children.
Copyright 2023, ReliableNews.org