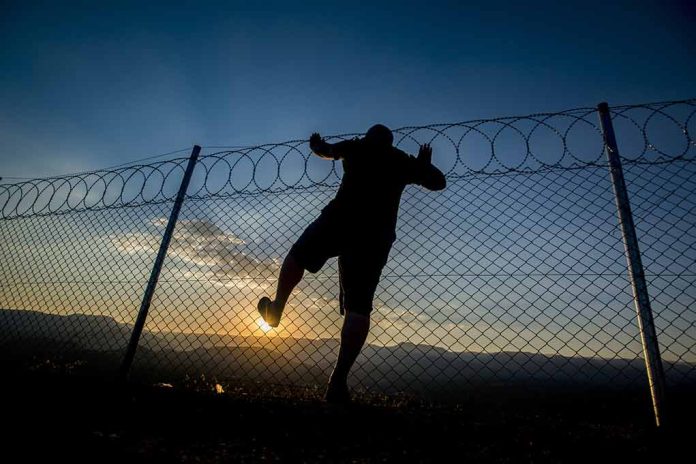 (ReliableNews.org) – On August 31, Danelo Cavalcante, a convicted murderer, escaped the Chester County Prison in Pennsylvania. The 34-year-old was in prison for fatally stabbing his ex-girlfriend. A video released shows his wild escape as the hunt for him stretched into a week.
On Wednesday, September 6, officials released a video showing the convict crab walking up a prison wall in the exercise yard. Authorities said he climbed on the prison roof and then plowed through razor wire, escaping the same way Igor Bolte did in May.
Newly released video shows convicted murderer Danelo Cavalcante escape from the Chester County Prison exercise yard in Pennsylvania on August 31. He shimmys up the wall backwards. pic.twitter.com/Hh14NrxdiU

— Brian Entin (@BrianEntin) September 6, 2023
Reporting revealed the guards at the prison didn't realize the murderer had escaped for a full hour, giving him a major head start. The guard working in the prison's tower was placed on leave as authorities investigated how such a brazen escape could happen. Officials closed the schools in the search zone, and warned residents to keep an eye out.
On Tuesday, a resident of Pennsbury Township reported seeing the escapee in a creek bed behind his property. The man's home is located in a wooded area about seven miles away from the prison. The day before that sighting, a trail camera showed him in the woods wearing a sweatshirt and carrying a backpack and duffel bag.
Cavalcante, a Brazilian native, is also wanted for murder in his home country. He was convicted of killing Deborah Brandão, his ex, on April 18, 2021, in Chester County. She was with her two children, ages 7 and 4, when he threw her to the ground and began stabbing her. The kids ran to a neighbor for help, but it was too late. She died at the hospital at just 33 years old.
Lt. Col. George Bivens called on residents to check their security footage in the hopes of tracking the killer. He said the recent footage of him shows that he found supplies and clothing to wear. He went on to say it's important that the community "keep pressure on him as [the police] continue the hunt."
Copyright 2023, ReliableNews.org