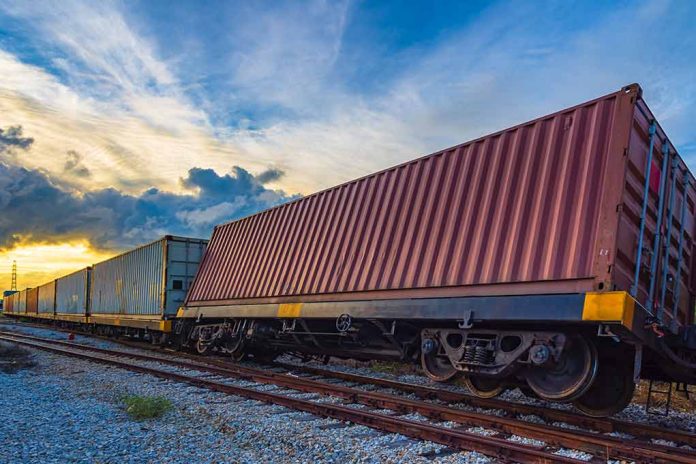 (ReliableNews.org) – In February, a train carrying hazardous material derailed in East Palestine, Ohio, leading to an evacuation of town residents. Now, another town has been forced to evacuate after a similar incident.
On Monday, July 17, a CSX freight train was traveling through Whitemarsh Township, Pennsylvania, when 16 of its 40 cars derailed. The police department issued a notice about the derailment on social media and revealed the train was on a track owned by Norfolk Southern, the same company that operated the East Palestine train. According to the post, authorities evacuated residents and businesses located near the scene out of an abundance of caution.
Some of the train cars toppled to the ground, including one tanker. Other tankers smashed into each other. Five contained liquid fertilizer, and one car contained tetrachloroethylene, a chemical used in dry cleaning that the Environmental Protection Agency (EPA) has deemed carcinogenic.
CSX representative Sheriee Brown issued a statement to CNN about the derailment, blaming it on weather issues. There was no indication that any hazardous material on board the train leaked, and nobody reported any injuries.
Later that day, the Barren Hill Volunteer Fire Company lifted the evacuation orders for the town. Chief Chris Schwartz said the scene was turned over to CSX and Norfolk Southern.
Norfolk Southern issued a statement saying, "There is no risk to the public."
Train derailments are not uncommon across the US. According to reports, about 1,000 derails every year, and that number has been declining. In 2022, 1,049 trains came off their rails. Since 1990, there's been a 60% reduction in incidents.
The incident in East Palestine was especially severe and rare. Not only did the chemicals leak into the ground, but hazardous air surrounded the site for weeks. Residents reported rashes, respiratory issues, bloody noses, and vomiting. The clean-up efforts are still ongoing six months after the derailment.
Copyright 2023, ReliableNews.org