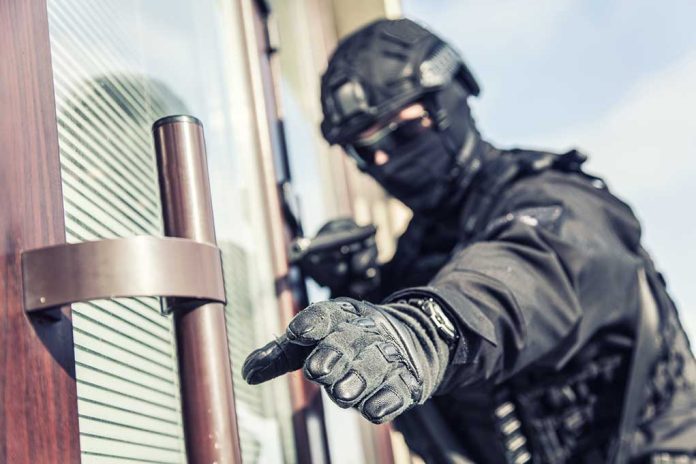 (ReliableNews.org) – On April 5, the unthinkable happened between members of the Farmington Police Department in New Mexico and a local couple — Robert and Kim Dotson. Just before midnight, police responded to a domestic violence call. However, the officers arrived at the wrong address and were met at the door by an armed man — Mr. Dotson. Police initially backed away from the doorway but subsequently opened fire, killing the man. The incident is still under investigation by New Mexico State Police.
On April 24, Newsweek reported that Dotson's legal team held a press conference where they announced the family's intention to file a civil lawsuit against the police department. The Dotsons also want the Farmington Police Chief Steve Hebbe to lose his job. The Farmington Daily Times quoted one of the Dotsons' attorneys, Shon Northam, as calling Mr. Dotson's death a "straight-up assassination."
Dead Man's Family Furious Over Police 'Assassination' at Wrong House. Good read to see the real facts. #justiceforrobbie https://t.co/j1E0TqiFlx

— Mark J. Reichel (@reichellaw) April 24, 2023
According to Northam, police knew they were at the wrong house before knocking on the door. He believes the officers involved in the shooting should face second-degree murder charges. Newsweek reported the body cam and Ring footage shows that Mr. Dotson was holding a gun, but it was pointed "at the ground." After the police shot the man, Kim Dotson appeared in the doorway with a gun and exchanged rounds with the officers. However, once she realized they were the police, she reportedly put down her weapon.
The officers have a slightly different version of the events that night. According to them, the cops identified themselves multiple times while at the door, they heard someone "rack a firearm" inside, and Mr. Dotson "abruptly" opened the door, pointing his gun at the officers. After allegedly giving the man a chance to follow orders and put down his weapon, police opened fire. They said they had "no choice."
Copyright 2023, ReliableNews.org