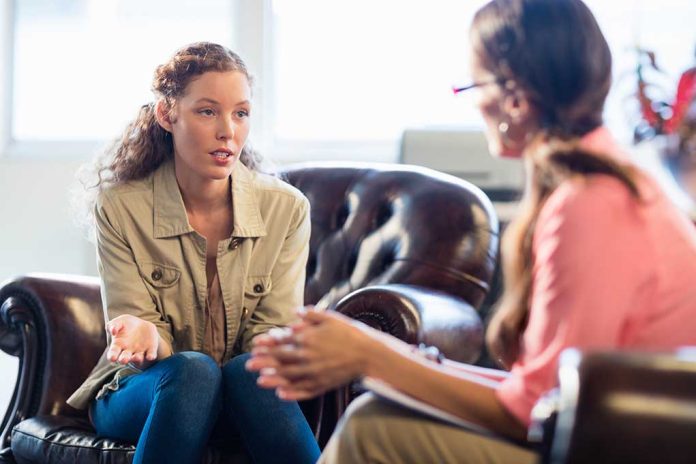 Psychologist Gives The Facts On Government-Induced Pandemic Lockdown Effects On Children
(ReliableNews.org) – Given that the COVID-19 pandemic is an event not seen in the United States in about a hundred years, many have expressed concern about the social effects of such a prolonged event — especially in children. Clinical Psychologist Chloe Carmichael spoke on a recent podcast about the subject and shared some insight about the possible long-term effects of health protocols over the last two-plus years.
Carmichael's Analysis
Dr. Carmichael wrote a book called "Nervous Energy: Harness the Power of Your Anxiety," which talks about the specifications of how anxiety affects a person's life. Her book talks about how people can use emotion to grow and "reach their full potential."
On the show, the podcaster asked Carmichael what impact she thought strict lockdowns and masking were having on children because part of their development relies on looking at and interpreting facial gestures subconsciously. She said there was no study to create a baseline before the pandemic, so her analysis was pure speculation. She pointed to a study conducted by Brown University that showed a drop in children's IQ scores throughout the pandemic.
Carmichael went on to relay that the study presumed the results were because of a "lack of stimulation." She surmised, based on her previous experience as a psychologist, self-esteem, communication, and language could also be impacted during the pandemic.
While speaking about school-aged children, she said distance learning might stop children from learning about body language from their peers. The one thing the doctor honed in on was the increase in anxiety levels among children and teens. Although Carmichael admitted anxiety could heighten for a variety of reasons, she said it could be partially from COVID-19 measures. In fact, she mentioned the increase in depression and anxiety could be because of isolation.
Long-Term Effects
The psychologist suggested that perhaps there will be a need for some "deprogramming" after the pandemic to get children used to not wearing a mask without fear. She called for strong advocates to buck the masking trend unless it's absolutely necessary. Children's "social and emotional development" need to be continued and preserved.
According to Psychology Today, seeing mouths is not essential in language development in children. However, the article states without the visual aspects, it can be difficult for them to discern emotion, but not impossible. The medical magazine noted there are things parents can do to minimize the effects of mask-wearing and social distancing. Increasing face-to-face time at home, staying positive, and making faces with them while unmasked can go a long way in minimizing social and emotional impacts.
Copyright 2022, ReliableNews.org