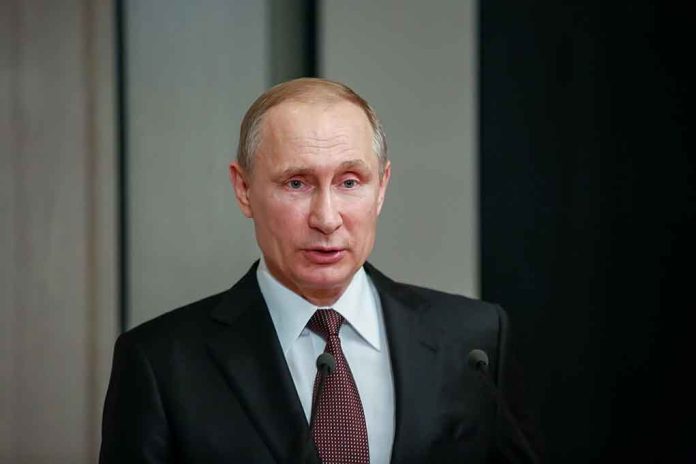 (ReliableNews.org) – The war in Ukraine has been raging for more than 10 months. Peace talks broke down early in the conflict and have not been restarted. Russian President Vladimir Putin now claims he's ready to negotiate to end the conflict, but not everyone is convinced.
Reuters reported Putin spoke to Rossiya-1 state TV about the conflict, saying he is "ready to negotiate with everyone involved about acceptable solutions." However, he claimed the ball is in Ukraine's court, accusing President Volodymyr Zelenskyy's administration of refusing to negotiate.
Putin's remarks came after reports indicated his military's death toll had surpassed 100,000.
Number of Russian troops killed in Putin's failing invasion of Ukraine 'passes 100,000' https://t.co/22aQBPjmgw

— Daily Mail Online (@MailOnline) December 23, 2022
The Russian leader's declaration also came one day after his military launched a Christmas Eve attack on Kherson, leaving at least 16 dead and dozens more injured. Civilians were reportedly among those killed.
Mykhailo Podolyak, an adviser to Zelenskyy, responded to the claims Putin wanted to negotiate, saying he "needs to come back to reality." The official claimed Russia has "single-handedly attacked Ukraine" and killed people. He pointed out nobody else is involved in that. Further, he accused Moscow of trying to "avoid responsibility" for the war.
Putin needs to come back to reality.
1. Russia single-handedly attacked Ukraine and is killing citizens. There are no other "countries, motives, geopolitics"
2. Russia doesn't want negotiations, but tries to avoid responsibility. This is obvious, so we are moving to the Tribunal.

— Михайло Подоляк (@Podolyak_M) December 25, 2022
Zelenskyy has previously laid out a list of conditions Putin would have to meet in order to end the conflict, including Russia's complete withdrawal from all of Ukraine, and even Crimea.
Copyright 2022, ReliableNews.org