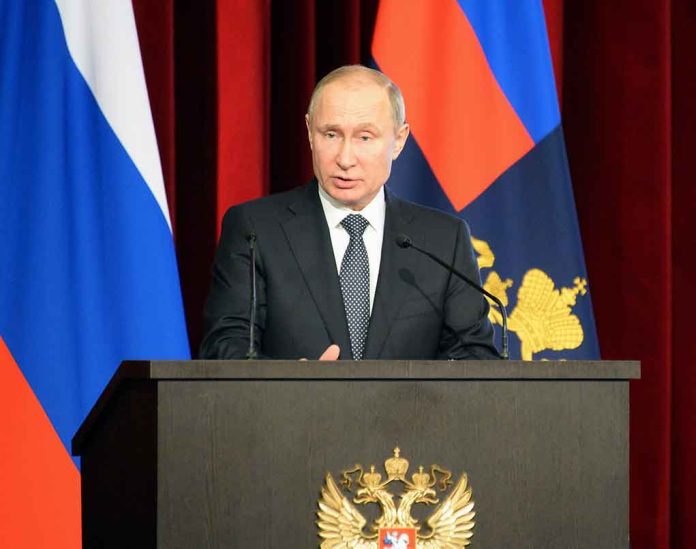 (ReliableNews.org) – Russia freed WNBA player Britney Griner in December after 10 months in prison. To get her home, US President Joe Biden authorized a prisoner swap, trading Viktor "Merchant of Death" Bout for the basketball player. Back in his motherland, the arms dealer has apparently taken up a new career.
On Tuesday, March 7, Bout unveiled an art exhibition at a gallery in Moscow. The arms dealer who was convicted in the US of terrorism charges in 2011 has created a wide array of subjects and styles. His artwork included paintings and drawings that were done in a realistic manner and included portraits of everything from animals to Soviet-era movie stars.
ABC News reported that Bout spoke at the exhibition, saying his time in an American prison was difficult because he was "surrounded by absolutely grey walls topped by barbed wire." He claimed that the "deprivation of such visual stimuli" was challenging. His show includes a floor plan of his cell.
The exhibition includes personal objects, photos and a floor plan of Bout's cell from the U.S. prison where he was being held. https://t.co/Bm6gTFdIS8

— 13News Now (@13NewsNow) March 8, 2023
Biden's decision to trade Bout for Griner was incredibly controversial. Many Conservatives didn't support the swap, even though they wanted the American basketball player home. The Kremlin had wanted the arms dealer released for more than a decade when it happened. Many Americans worried he would go back to his previous profession of selling deadly weapons to bad actors. He served 11 years of his 25-year sentence when he was released into Russian custody last year.
The 2005 Nicolas Cage film "Lord of War" was loosely based on Bout's life. Prior to his release, Russia's upper house of parliament displayed Bout's artwork. The Associated Press described the convicted criminal as a complex individual. He reportedly speaks six languages, doesn't eat meat, and loves classical music.
It's unclear how much Bout's artwork is going for at the showing. He told attendees that they "must not give up" and "remain faithful to [their] fate."
Copyright 2023, ReliableNews.org