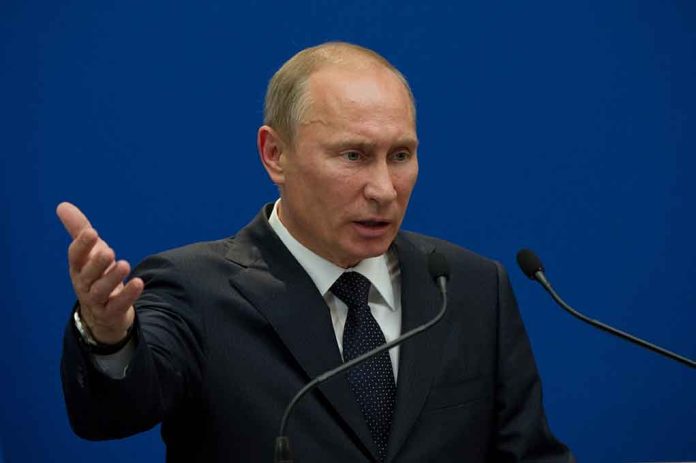 Putin SPEAKS OUT – Throws Shade At New British Prime Minister
(ReliableNews.org) – After a slew of scandals surrounded British Prime Minister Boris Johnson, members of his party demanded his resignation. In July, he agreed to step down from his post but stayed in place until the process of choosing his replacement was complete. On September 6, New Conservative Party leader Liz Truss became the new PM, prompting Johnson to officially hand in his papers to the queen. One day later, Russian President Vladimir Putin spoke out about Britain's process of choosing a new leader, calling it "far from democratic."
Processes and Russian Criticism
The way Britain ultimately chose Truss took place in two stages. The first part involved lawmakers from the Conservative party voting amongst themselves to bring the number of possible candidates down to a pair. Members of the party who paid their dues then questioned the contenders and voted for whom they wanted to lead — Truss won.
Putin criticized the measure, saying the citizens of Great Britain didn't have a say in who would become their prime minister, as it was up to only part of one party to decide. When asked about his country's relations with the isles, the Russian leader said relations are up to British Conservatives while vowing to defend his homeland's "own interests."
Relations with Russia
Senior Russian lawmaker Dmitry Novikov doubts the relationship between the two countries will improve under the new leadership. Senior Russian Duma deputy Dmitry Belik echoed the statement, ruminating over alleged "Russiaphobic sentiments" by both Truss and the former prime minister.
The leadership in Russia believes Britain is intent on westernizing the motherland no matter who is in charge, and it will continue to support Ukraine. In fact, Ukrainian Deputy Rustem Umerov tweeted his excitement about the appointment, relaying how much he looks forward to working with the new PM. Media outlets in Ukraine guessed Truss would make her first official call to the embattled nation's president, Volodymyr Zelenskyy. Obviously, that doesn't bode well for Russian relations.
Putin's spokesperson, Dmitry Peskov, stated he couldn't foresee relations with Britain deteriorating further under Truss' rule but didn't dismiss the possibility entirely. A host from the country's state-run TV reacted to the new prime minister by stating, "Stupidity has triumphed." If the statement is any indication of Russia's attitude toward Truss, it doesn't seem like things will improve between the two nations.
What do you think about the new appointment in the United Kingdom? Do you think it should have been more democratic?
Copyright 2022, ReliableNews.org