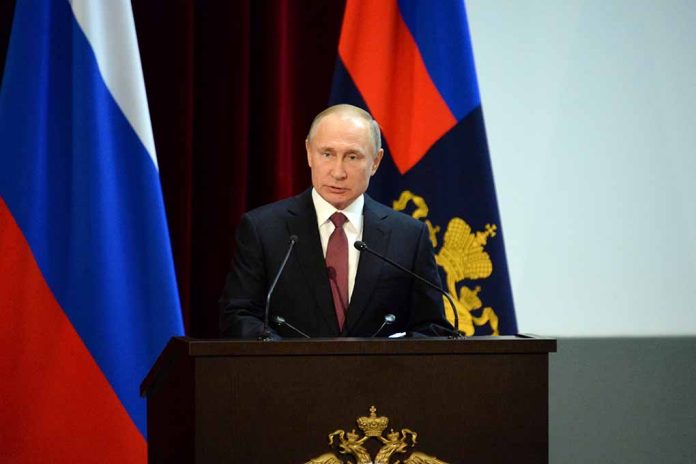 (ReliableNews.org) – Ukrainian President Volodymyr Zelenskyy recently warned about the possibility of Russia using nuclear weapons in his country. The concerns over the country's nuclear stockpile dates back decades to the nuclear arms race during the Cold War. According to reports, the Pentagon is taking the possibility of such a threat very seriously.
The Department of Defense is closely monitoring Russian President Vladimir Putin's nuclear stockpile. While Zelenskyy is rightfully worried about the future of his country, the Washington Times reported a senior defense official told reporters on April 19 they have seen "no indication" to suggest a nuclear threat is "imminent." Nonetheless, the official believes the US military has "the right strategic deterrent posture in place" just in case.
On April 16, the Department of Defense tweeted a video of all the weapons the military was sending to Ukraine to help Zelenskyy's military fight back.
Supply crates containing munitions and other explosive material bound for Ukraine are loaded at Dover Air Force Base in April 2022. pic.twitter.com/hN68rceBAS

— Department of Defense 🇺🇸 (@DeptofDefense) April 16, 2022
Zelenskyy isn't the only one worried about Russia's plans. CIA Director William Burns has also warned Putin might resort to using nuclear weapons if his military offensive continues to fail. He said nobody can "take lightly the threat" posed by the Russian leader.
US Defense Secretary Lloyd Austin is reportedly being briefed about Putin's nuclear stockpile multiple times every week. Pentagon Spokesman John Kirby told the Times the secretary is comfortable with the measures in place to prevent an attack.
Copyright 2022, ReliableNews.org