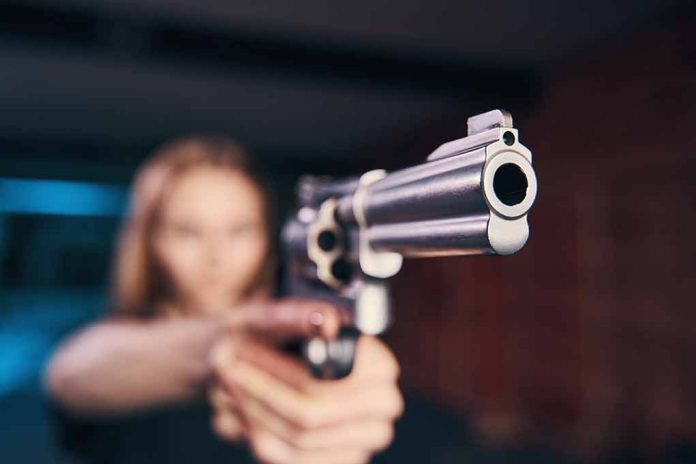 (ReliableNews.org) – According to Berklee, lighting technicians rig and program overhead lighting, set up background projections and video screens, hang lights, and do everything necessary to bring a concert or other performance to life. The professional works with an entire crew to ensure live events go off without a hitch and become an integral part of the performances. One who had been a stagehand for country singing legend Randy Travis for years was recently shot dead in front of his home.
Details About the Shooting
On July 11, Law & Crime reported that Tennessee police released a statement that 72-year-old Christine Ann Roberts allegedly murdered her husband, 68-year-old Thomas Roberts, in cold blood in front of their Nashville home. Mrs. Roberts reportedly claimed the victim had "cheated on her," so she shot him in the chest with a pistol on their front porch. He died at the scene. Police arrested the suspect, and she is currently behind bars on a $100,000 bond. Davidson County Sheriff's Office records listed Christine Roberts as "not eligible for release."
Reactions to Crime
Randy Travis released a statement on Facebook following Roberts' sudden death. He said life on the road "won't be the same" without his friend Thom. He described the lighting technician as a "gentle giant of a man" who was always smiling and kind. In fact, Travis said Mr. Roberts was a rare breed, and the "stage has gone dim" with his passing. He hailed Roberts as the best in the business, adding that his mere presence had the power to fire up your very "soul." The country singer, always the poet, said he expects that "flashes of Thom's handiwork" would likely be seen in the night sky, "letting [his] loved ones" know he is home." The Daily Mail reported the two worked together for more than two decades.
Roberts' neighbors also paid tribute to him, describing him as "very welcoming" and "sweet." They were also aware of his talent as a lighting professional, saying he recently decided to leave his work behind and spend some time traveling with his grandson.
Bandit Lites, Inc. Vice President Michael Golden said he previously had the pleasure of working with Roberts. He said, "Thom [was] one of the old guards" who helped transform "the wild west of touring." Golden said he has fond memories of the victim, and the industry will miss him.
According to the Daily Mail, the lighting technician also worked for country singer Vince Gill and the legendary talent Olivia Newton-John.
Copyright 2023, ReliableNews.org