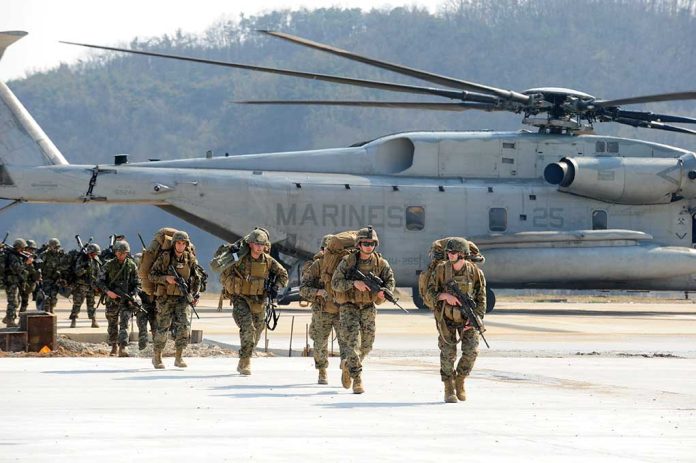 (ReliableNews.org) – Ukraine will soon mark one year of defending itself from Russian aggression with considerable material help in the fight from Western allies. Yet, the conflict has highlighted other growing global tensions, including escalating Chinese incursions in the straits of Taiwan. A recent report suggested the US military could deplete its munitions supplies within a week if it engaged China directly or supported Taiwan as it defended itself.
Seth Jones, director of the Transnational Threats Project at the Center for Strategic and International Studies (CSIS), issued his report, "Empty Bins in a Wartime Environment," on Monday, January 23. It's based on a war games simulation modeling a protracted engagement between the US and a well-armed enemy, like China. The scenario found the US would likely deplete its long-range, precision-guided munitions in a week or less.
US military would run out of some munitions within a week of conflict with China, report https://t.co/jgNOcqxDOx

— Just the News (@JustTheNews) January 24, 2023
The US has committed to sending Ukraine over $27 billion in military supplies and aid, according to the Wall Street Journal. Yet, the demands of the conflict have also exposed the US defense industry's shortcomings regarding the ability to resupply munitions and armaments in a timely manner. The report found a number of conditions, especially as they pertain to foreign military sales (FMS), have hamstrung the industry and made it inefficient and uncompetitive.
Additionally, the report suggested that having sufficient munitions on hand helped deter the escalation of hostilities. The author strongly suggested the following plan of action
Reassess munitions requirements
Evaluate replenishment needs
Create a strategic munitions stockpile
Devise a sustainable plan to meet current and future needs
Broaden purchasing approaches, including multi-year contracts
Optimize FMS programs to support allies and provide flexibility for unforeseen conflicts
The think tank author stressed how critical it is to prepare as soon as possible. In fact, the WSJ reported a backlog in excess of $19 billion in US arms sales approved for Taiwan since 2019. Manufacturers have blamed supply chain and worker availability issues since the beginning of 2020. CSIS also mentioned that the government's FMS policies add up to two years to weapons systems delivery dates.
"The bottom line is the defense industrial base, in my judgment, is not prepared for the security environment that now exists," Jones told the Wall Street Journal. His report suggested it could take years before the defense industry can gear up to produce the quantities of critical weapons systems to sufficiently resupply troops.
Copyright 2023, ReliableNews.org