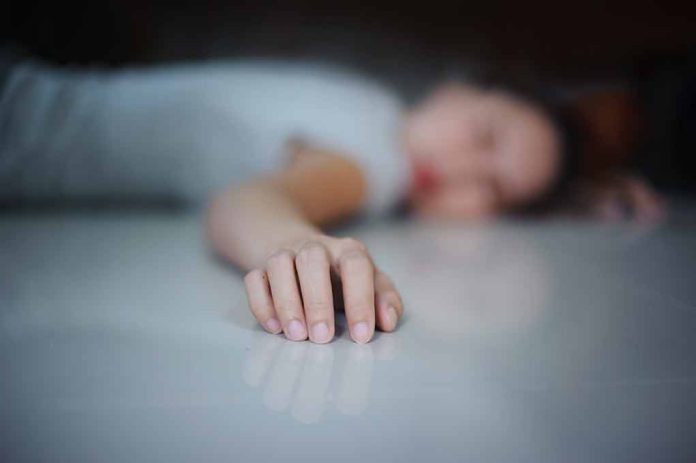 (ReliableNews.org) – There's no shortage of suspicious deaths surrounding Russia's top business officials. The country has a reputation for allegedly doing away with people who know too much or go against the government and President Vladimir Putin in any way. The latest suspicious death surrounds Loko-Bank Vice President Kristina Baikova.
On June 23, Baikova was in her apartment with a friend, only identified as Andrei, when she took a tumble out of her window. When authorities questioned her guest, he said she had gone outside on the balcony and tumbled down to the ground. She was pronounced dead at the scene. Her death is under investigation, but some suspect that she might be the latest victim of the "Sudden Russian Death Syndrome."
Glamorous vice president of Russian bank Kristina Baikova, 28, 'plunges to her death from 11th-floor apartment window' in Moscow in the latest mysterious fatality involving the country's top execshttps://t.co/RJaP87IUw5

— Henry Makow (@HenryMakow) June 29, 2023
Baikova is just the latest Russian executive to die through a fall out of a window. Lukoil Chairman Ravil Maganov died of a similar fate when he fell out of a window of a Moscow hospital in September 2022. Three months later, Pavel Antov, a politician who was critical of the Ukraine invasion, was found dead after a similar fall. Then, in February 2023, Marina Yankina died after falling out of a window in the apartment building where she lived in St. Petersburg.
It's such a common occurrence lately that retired US General David Petraeus, a former CIA director, warned that Yevgeny Prigozhin, the now-exiled Wagner Group leader who led his troops in a storm in Moscow, should stay away from open windows.
However, not all of the suspicious deaths were those falling out windows. Tycoon Mikhail Watford, for example, was found dead in his home in the UK. Gas oligarch Sergey Protosenya was found hanging in a Spain apartment, and Gazprombank vice president Vladislav Avayev, who was also a former Kremlin official, was found shot dead in Moscow along with his wife and 13-year-old daughter.
Copyright 2023, ReliableNews.org