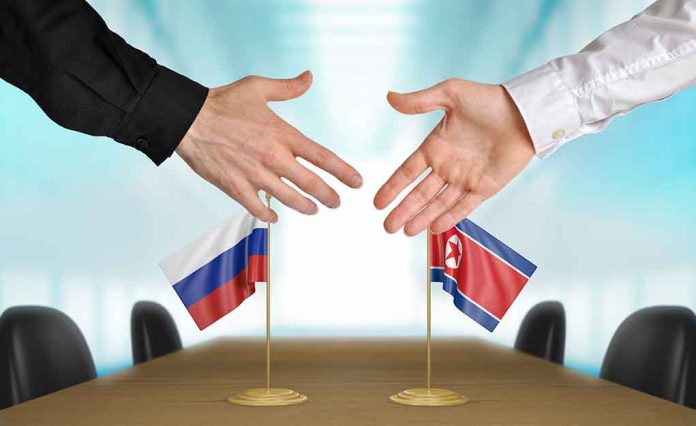 Russia And North Korea Are Getting COZY – Putin Strengthens Relationship
(ReliableNews.org) – The Russian government is feeling the squeeze from European and US sanctions in the wake of the Ukrainian war. President Vladimir Putin is now trying to find ways to get the artillery he needs to continue his invasion. Reports indicate he's turning to two of America's biggest adversaries.
According to reports, recently declassified US intelligence information has accused Russia of buying millions of artillery shells from North Korea and Iran. Officials didn't release exactly what kind of projectiles the Kremlin is buying or the size of the purchases.
A US official spoke to The New York Times and revealed that Russia will likely try to buy more weapons from North Korea in the future. Rep. Raja Krishnamoorthi (D-IL) posted on Twitter that the news is evidence that sanctions against Putin are working.
U.S. sanctions on Russia are having their desired effect on Putin's war machine, as signs continue to emerge that show Russia's military supply chains are weakening. https://t.co/jBrnezbA9K

— Congressman Raja Krishnamoorthi (@CongressmanRaja) September 7, 2022
The measures have prevented the invading country from supplying its military. While the sanctions might have forced Russia to go to the adversarial nations for artillery and rockets, they have not yet crippled the country. The profits Putin's government has made from oil shipments have helped lessen the impact of the measures from the US and Europe. America's European allies are still among the nations contributing to those profits.
Do you think the sanctions are working?
Copyright 2022, ReliableNews.org