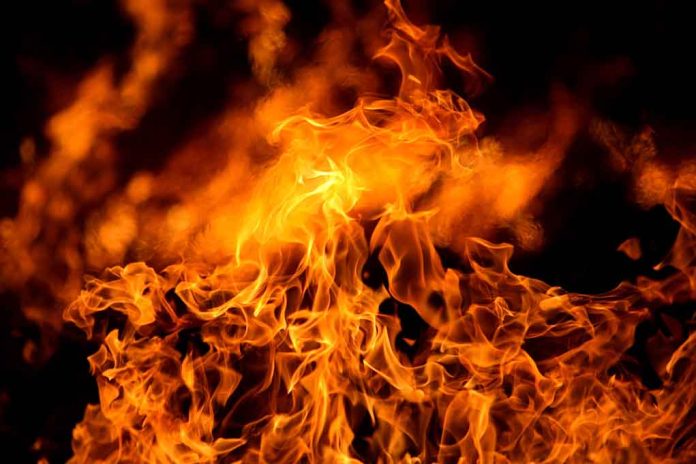 (ReliableNews.org) – The Russian military has experienced quite a few losses since it invaded Ukraine. Tens of thousands of troops have lost their lives, and the country has lost billions of dollars worth of equipment. Now, they are dealing with the impact of a fire in one of their facilities.
On Thursday, March 16, a fire engulfed a building that Russia's Federal Security Service uses. The facility was located just over 40 miles from the border of Ukraine in the Russian city of Rostov and belongs to the Federal Security Service (FSB). A series of explosions shook the building while it was on fire.
According to the Daily Mail, two people were injured, and one person was killed in the blaze. A witness said, "The building just exploded right in front of my eyes." Another person said an FSB officer screamed expletives at the crowd, telling them to get fire extinguishers.
Regional Gov. Vasily Golubev said the fire was caused by an electrical short circuit, the Associated Press reported. Anonymous police sources told the press the explosions inside of the warehouse were caused by the detonation of ammunition.
Russia is reportedly concerned a series of fires and explosions in the country might be caused by opposition forces who don't agree with President Vladimir Putin's decision to invade the country. There is no indication the fire was the result of a missile or drone attack launched by Ukraine.
Ukrainian Presidential aide Mykhaylo Podolyak said they weren't involved with the explosion, saying, "Ukraine doesn't interfere, but watches with pleasure." He suggested the explosion was the result of an "internal conflict" in Russia.
Any FSB building that burns or explodes in RF, particularly in Rostov region, clearly indicates that this is a manifestation of panic, weakening of power control and RF's transition to a major internal conflict. Ukraine doesn't interfere, but watches with pleasure…

— Михайло Подоляк (@Podolyak_M) March 16, 2023
Thousands of Russians have protested the war in Ukraine over the last year. Putin's regime has cracked down on the uprisings, jailing those who dare to speak out against the conflict.
Copyright 2023, ReliableNews.org