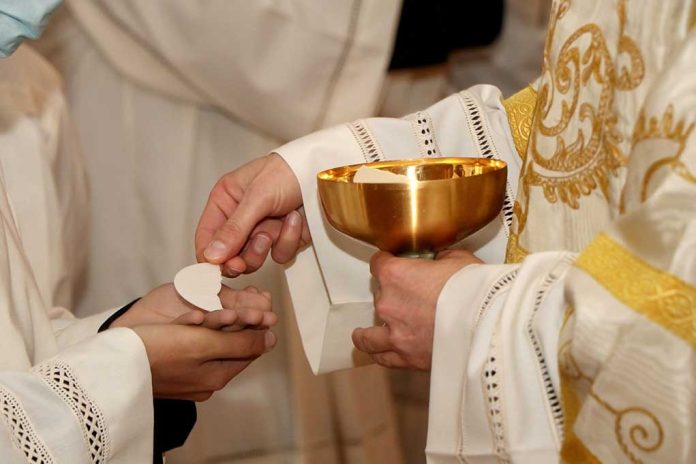 Archbishop vs Nancy Pelosi – Sudden Removal Requested
(ReliableNews.org) – On May 20, Archbishop Salvatore Cordileone of San Francisco announced he was banning Speaker of the House Nancy Pelosi (D-CA) from receiving the Eucharist in her city. Her position on abortion and recent attempts to codify Roe v. Wade led to the bishop's decision. The San Francisco Examiner is now calling on Pope Francis to take action against the archbishop.
The newspaper's editorial board published a scathing op-ed on May 21 accusing the archbishop of going against Pope Francis. The op-ed claimed "Cordileone's chief loyalty is not to Christ," instead they believe he's serving a "cabal of far-right American bishops led by Raymond Leo Burke," who wants to undermine the pontiff's authority. The editorial board called on Pope Francis to remove the archbishop from his position and replace him with a leader who will "unify rather than divide."
EDITORIAL: We appeal to @Pontifex to send a clear message that he, not Archbishop Cordileone, is the leader of the faith. He can do this by relieving this insubordinate saboteur of his duties in San Francisco and putting an end to his political schemes. https://t.co/uibwQ80zVj

— SF Examiner (@sfexaminer) May 21, 2022
The Vatican has not responded to the fight in San Francisco, however, it has been quite clear where the pope stands on the issue in the past. In 2021, when a group of conservative Catholic bishops tried to pass a rule denying politicians communion based on their support of keeping abortion legal, the Vatican warned against it. At the time, Jesuit Priest Antonio Spadaro, an ally of the pontiff, said the Church didn't want Eucharist being used "as a political weapon."
In 2021, Pope Francis told reporters he would never refuse Holy Communion to anyone. He said the history of the church shows that when bishops delve into politics, it causes problems.
What do you think? Should the Vatican take action against Cordileone for ignoring their position?
Copyright 2022, ReliableNews.org