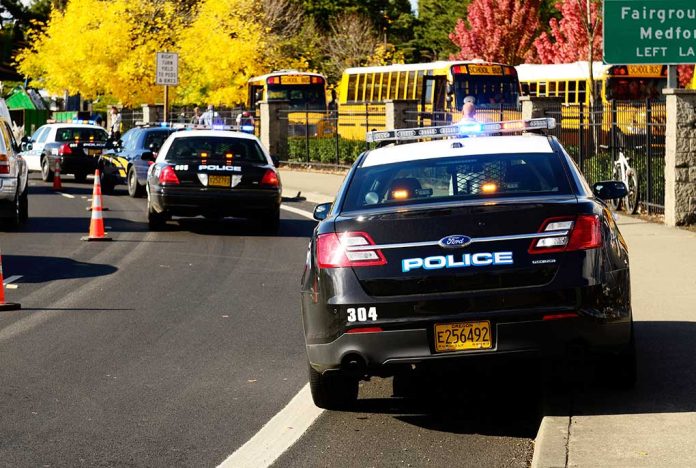 (ReliableNews.org) – School shootings have become commonplace in the United States. That's not the case around the rest of the world. Residents of Belgrade, Serbia, are currently dealing with the aftermath of one of these attacks.
On Thursday, May 4, Serbian students were seen carrying flowers and wearing black in order to pay their respects to their peers who were massacred on Wednesday. They filled the streets around a school in Belgrade where nine people were killed by a 13-year-old armed with his father's guns. The Associated Press reported that people from all over brought teddy bears, soccer balls, flowers, and handwritten messages to those who were lost and lined the fence outside of the school. Residents also held a memorial the night before.
Belgrade tonight, following a school shooting that left 8 children & a security guard dead after a 13-year-old boy opened fire on them. A horrific tragedy. 💔 pic.twitter.com/Jo1xV1L96a

— Boris Malagurski (@malagurski) May 3, 2023
A teenager walked into the Vladislav Ribnikar Elementary School just before 9 a.m. on May 3 and opened fire. He killed eight students and a security guard in the massacre. During a press conference, Belgrade Police Chief Veselin Milić said the students killed were seven girls and one boy. ABC News reported the police have identified him as Kosta Kecmanovic, and a Belgrade prosecutor has indicated he's too young to be held criminally liable for the mass murder.
Milić revealed the suspect had a hit list. He also had a sketch of the layout of the school, and authorities believe the shooting was planned at least a month before he called it out. After the shooting stopped, the teen called police and confessed to what he'd done. He then walked into the schoolyard to wait for law enforcement to arrest him.
The suspect's father was detained after the shooting as well. Officers reportedly searched the child's home after the massacre and found the safe where his dad kept his guns. The student allegedly knew the combination to it, allowing him access to the deadly weapons.
Minister of Education Branko Ružić announced the country would observe three days of national mourning in the wake of the murders.
Copyright 2023, ReliableNews.org